A case study on workplace violence in the Philippines show that the healthcare workers are at a high-risk of being the receiving end of harassment, with nursing staff more often the target than any other sector.
In a paper presented at the Third International Conference on Violence in the Health Sector 1 in October 2012, Faustino Jerome Babate and Danny Alfaras reported that the "violence is occurring four times more often in healthcare settings than in all of private industry combined."
The paper stated that negative effects of workplace violence included minor and serious physical injuries, temporary and permanent physical disability, psychological trauma, and death.
"Most nurses in Philippine hospitals have experienced a certain degree of violence," it added.
Recently, a video of a nurse on-duty at Balamban District Hospital being harassed by patient (who is a public school teacher) and her husband in Cebu went viral online. It sparked outrage from the healthcare community, with most of the nurses calling for stiff penalty against the teacher.
It also prompted nursing organizations and advocacy groups to revisit policies and protocols in handling cases of workplace violence in healthcare setting.
Ang Nars Party-list, a nursing advocacy group, has come up with 5 important things that would help in dealing such incidents.
DEALING WITH WORKPLACE VIOLENCE & HARASSMENT
1. PREPARATION: Check your Institution's resources. Be proactive. Do not wait for an untoward incident to happen. Ask your supervisor, HR, or UNION if you have existing policies or committees in dealing with harrassment from co-workers, superiors, or patients.
2. KNOW YOUR RIGHTS. You have the right to SAY NO to verbal insults, physical contact, or sexual advances. You should make it clear to the harasser that you do not consent to their behavior and you want them to stop. You have the right to defend yourself. Your work space is considered a restricted area and you can ask people to leave, especially if you do not feel safe. You are not required to sign anything or to admit any fault without legal counsel.
3. REPORT THE INCIDENT IMMEDIATELY. If it is happening to you, ask for help DURING the incident if possible; Otherwise, report it immediately after the incident has concluded. If you are a bystander, you can report it to security or any supervisory body.
4. KEEP YOUR OWN DOCUMENTATION. While the incident is still fresh, write down the date, time, place, and persons involved in the incident. Make a DETAILED narration, and INCLUDE WITNESS ACCOUNTS. Keep multiple copies of every document especially if the harassment comes from coworkers and superiors, to prevent tampering of evidence.
5. SEEK HELP from co-workers, family, friends, and organizations. Do not suffer in silence. Seek advice and support from trusted friends and colleagues. There are many groups willing to help you in taking formal action.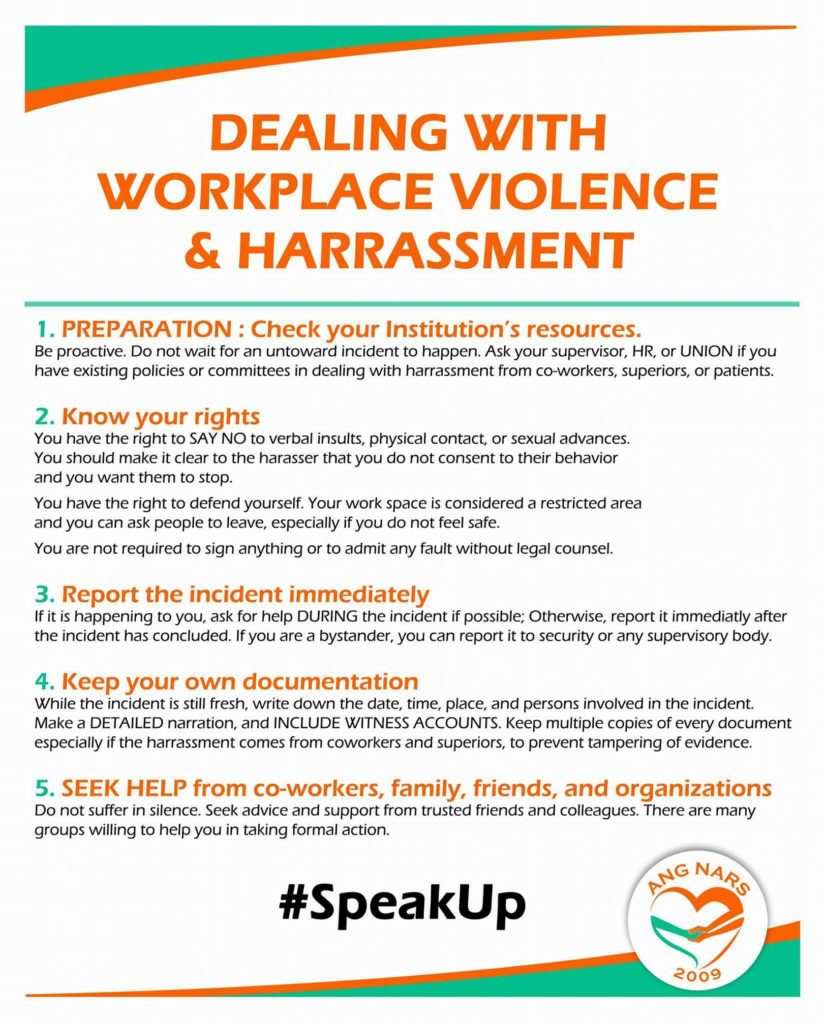 Workplace violence, may it be in physical, verbal, or any other forms, is really an inevitable challenge health workers are facing in this country.
Hoping that the above-mentioned tips shared by Ang Nars will help nurses deal with it, thereby minimizing the negative effects. (Photo by brilliantnurse.com)