If you are a foreign nurse and you intend to apply in Florida for NCLEX and licensure, this post will guide you to the entire Florida NCLEX application process for nurses.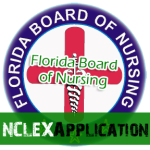 But before we start with the steps, please take note of the following things when applying in Florida Board of Nursing:
SSN Requirement. Florida requires US Social Security Number for Licensure. They will allow you to apply and take NCLEX without it, but they won't issue your license after passing the exam.
Credential Evaluation. Like most of US states nowadays, Florida also requires credential evaluation thru a third party agency like CGFNS (CES Report), IERF, ERES or Joseph Silny. Of course they charge additional fees for that.
Prevention of Medical Error Course. All applicants must complete this 2-hour course (can be done online, with fees)to be approved for the NCLEX. You can check out www.cebroker.com for approved providers.
Proof of English Competency. This requirement is waived if you took your nursing coursework in English and used English textbooks.
Florida NCLEX Application Steps
1. Apply online or download Florida application form at Board of Nursing website. All sections of the application must be completely filled up. Use N/A if a section is not applicable. Submit completed Florida NCLEX Application with payment of $204 (in cashier's check or money order in US currency payable to DOH Florida Board of Nursing) to the following mailing address:
Department of Health
Post Office Box 6330
Tallahassee, FL 32314
2. Process Credential Evaluation FULL report at CGFNS, ERES, IERF or Joseph Silny. These agencies will require you to send Academic records from school and License information from local board of nursing (PRC in Philippines). Of course, they charge fees for the evaluation ($385 if CGFNS). CES report takes months to finish and will be sent electronically to Florida by the agency.
3. Wait for the letter of eligibility/approval from the Board. Processing time if all requirements are received (including the CES Full report) usually take minimum of 14 days.
4. Register with Pearsonvue. If you have received your eligibility letter from Florida, you can now register online at Pearsonvue.com/nclex for the issuance of Authorization to Test (NCLEX ATT). Do NOT register if you haven't received your eligibility/approval yet. Payment of $200 via Visa, Mastercard, American Express or JBC credit cards. Contact Florida Board of Nursing to report registration so that ATT will be issued thru email.
5. Schedule your NCLEX test. If you have received your NCLEX ATT, you can now schedule your exam by calling Pearsonvue hotline. ATT is valid for 90 days, and it starts on the issuance date. So you have to schedule and take the exam within that period, without any extension. If you are testing outside US, you have to pay additional $150 for international testing fee.
That's it. If you have further questions regarding Florida NCLEX application, just drop a comment below or email nclexzone@gmail.com. Source: Florida board of nursing.