Here's a quick guide on how to process your NCLEX application in any state boards of nursing in the US, applicable to Philippines and other foreign nurses.
Of course, each state has different set of requirements and steps on how to apply for NCLEX exam, but this guide will give you an idea how to do it.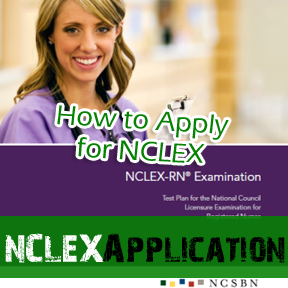 NCLEX Application Steps
1. Determine which state you want to apply. There are many factors that you have to consider when choosing which state to apply, sometimes depending on your present circumstance. For example, if you have just passed the NLE but don't have your license yet, there are states that allow you to apply and take the NCLEX without your PRC license. Then there are states that require CGFNS Exam, CES, fingerprint card, etc.
2. Visit the website of your chosen state. You can visit ncsbn.org for the complete list of State Boards' websites. Or you can search it on the web.
3. Download/request Application Forms, Instructions, Fingerprint Cards. Application processing and requirements vary from state to state. Please read and follow the instructions carefully to avoid delay in the processing of your application. If you have questions, you can read my other posts or drop a
comment to ask me.
4. Submit your completed application(forms, documents, payments, etc.) by mailing it to your chosen state board of nursing. Processing time of your application varies from state to state; some states would approve it as early as 2 months while others would make you eligible in 6-8 months. So it would help if you constantly follow up your status through email (or website, if any) provided by the state.
5. If you are eligible, register with PearsonVue for NCLEX-RN Testing. There are different modes of registering, but doing it online thru pearsonvue.com is the fastest(you can check my post on how to do it). After registration you will receive 2 emails, the first confirming your registration and payment of $200, and the second, your Authorization to Test(ATT).
6. Schedule your NCLEX. If you prefer to take the test in Makati, Philippines, you can schedule your exam by calling Pearsonvue hotline (check the contact number in ATT). Have your ATT ready, they'll ask you your Candidate ID number, ATT number and other pertinent details. You also have to pay $150 for International Testing Fee thru Credit Card(VISA, MasterCard, American Express, JCB). Confirmation
email will be automatically sent to you after scheduling.
7. Take the NCLEX Test. Bring your ATT and Passport, plus other valid IDs.
That's it. If you have questions about NCLEX application on certain state board of nursing, please check my other posts or drop a comment below. Image credits: NCSBN.org