The Sample NCLEX ATT have been posted below for your information. Also, read on why you have to secure this document before taking the NCLEX on your scheduled appointment.
NCLEX ATT is the document (usually 3 pages, in PDF format online) that Pearsonvue issues after NCLEX registration. It is only sent if the nurse candidate has been deemed eligible (approved) by the Board of Nursing. It is sent thru email if the candidate has provided his/her email address upon application/registration.
The NCLEX ATT is needed in:
1. Scheduling of NCLEX. In ATT you can find your Authorization Number, Candidate ID Number and Test Validity needed in scheduling the exam. You must schedule and take the test within the validity dates printed on this NCLEX ATT. These validity dates cannot be extended for any reason.
2. Admission to Test Center. When you arrive at the test center, you will be required to present your ATT and one form of acceptable identification(For international test-takers, passport is the only accepted identification). The printed first and last names on your identification must match exactly the printed first and last names on your ATT.
NCLEX ATT sample: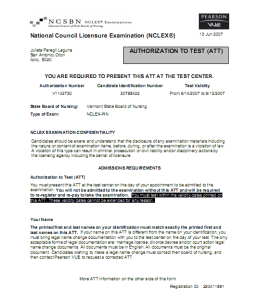 If you have registered in Pearsonvue and paid the NCLEX fee of $200 but you have not received your ATT yet for a reasonable length of time, just message me below.