Around 15,000 health workers are needed in the fight against Coronavirus Disease 2019 (COVID-19) pandemic in the country, the Department of Health (DOH) said on Thursday.
During the virtual presser on the latest COVID-19 situation, DOH Undersecretary Maria Rosario Vergeire said that health department is prioritizing emergency hiring and giving of benefits to healthcare workers.
"Based on estimates of the DOH, we need to immediately hire 15,000 healthcare workers to help in the COVID-19 response. Due to scarcity of the DOH budget, we requested additional from the DBM for this hiring," said Vergeire.
"As of this time, DBM has only approved funds for the hiring of 857 health workers."
Vergeire added that as of April 22, seven health facilities have already requested for additional health workforce under the emergency hiring policy. Out of these requests, 711 slots are already being processed intended for Lung Center of the Philippines, Philippine General Hospital, Tala Hospital, and Research Institute for Tropical Medicine (RITM).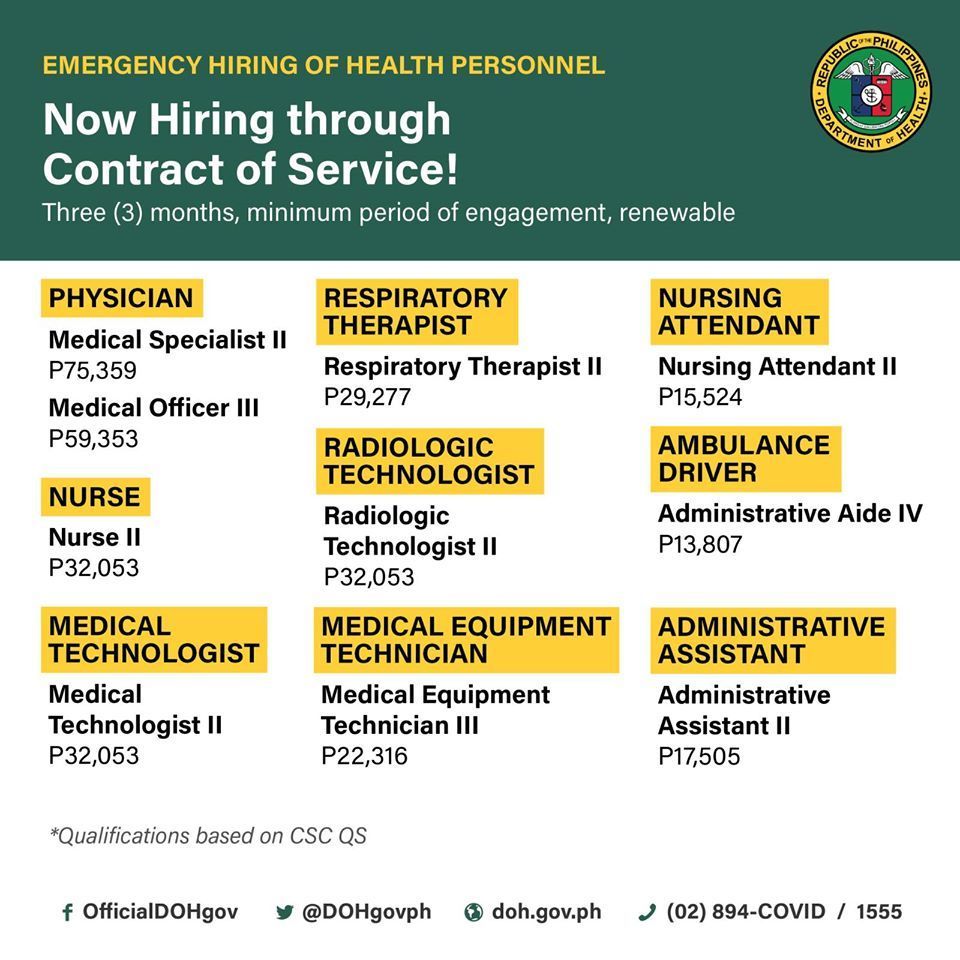 Also, DOH has already assigned 639 nurses under Nurse Deployment Program (NDP) and local government unit (LGU) hospitals around the country. Of this number, 192 are in Luzon and 447 in Visayas and Mindanao. These additional nurses are assigned in the hospitals to assist in taking care of COVID-19 patients.
The DOH has realigned budget to RITM for salaries and benefits of 22 health workers in the facility. Currently, there are 160 health workers in the RITM.
According to Department Memorandum No. 2020-0153, these health workers will receive the following benefits:
Basic salary compensation with 20% premium based on the basic salary, regardless of the number of quarantine days per month;
COVID-19 Special Risk Allowanc and hazard pay of Php500/day whether on duty or under required quarantine;
GSIS group insurance (one time premium of Php 500);
PhilHealth hospitalization benefits,
Php 100,000 in case of infirmity due to COVID-19;
Php 1,000,000 in case of death; and
Communication and transportation allowance of Php 1,000/month.
They will also receive protective personal equipment (PPEs); board and lodging while on duty or on quarantine; psychosocial support, as needed; Continuing Professional Development (CPD) units, which may be granted through Health Human Resource Development Bureau (HHRDB) certification; medico-legal assistance; and preferential evaluation for DOH vacancies, depending on qualifications.
Basic salary rate will be P32,053 for nurses, up to P75,359 for physicians; P32,053 for medtechs and radtechs; P29,277 for respiratory therapists; P22,316 for medical equipment technicians; P15,524 for nursing assistants; P13,807 for ambulance driver; and P17,505 for admin assistant.
Interested applicants may submit 4 copies of Personal Data Sheet and PRC ID related to profession to any of DOH Hospitals, Philippine General Hospital, or DOH Centers for Health Development/Regional Offices.
For inquiries, you may contact PGH telephone number: 155-200, Email address: uppghcovidvolunteers@gmail.com. DOH telephone number: (02) 8651-7800 loc. 4206, 4207 or Email address: hrhforcovid@gmail.com. Or join Viber group: bit.ly/Join-DOH-HCW-Viber