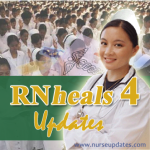 Update 10/30/2012: The full text of RN Heals 4 guidelines has been published here.
The guidelines for DOH RN Heals 4 implementation has been finalized and will be disseminated soon by the health department.
This was divulged by Nurse Alvin Cloyd Dakis, president of Alliance of Young Nurse Leaders & Advocates, International (AYNLA) and one of the stakeholders in the drafting and finalization of RN Heals 4 guidelines, in his Facebook status.
Dakis also posted the following points in the guidelines:
The official start of all recruitment & selection processes in DOH Hospitals and RHUs will be from Oct.29 to Nov.29, 2012. Application forms can be downloaded in the DOH website (to be uploaded soon).
All nurses participating in the training program shall start in January 2013 but shall be notified if accepted in the program in December 2012.
Strictly no night shifts allowed under the training guidelines.
BLS, IVT and other similar training are NOT pre-requisites in applying in the program. However, hospitals may opt to provide these training while nurses are in the RNHEALS program.
Participants of former RNHEALS batches and Project NARS are disqualified to join Batch 4. We will be releasing a roster of all previous participants so we can check for those who have been receiving the training twice or more.
Full Text of DOH RN Heals 4 Application Guidelines
DOH & AYNLA are still preparing the RNHEALS Central Site that will publish the full guidelines, application and downloadable forms of RN Heals 4. We will post those once it is officially published by DOH. Subscribe to this site for updates on RN Heals for by entering your email below or bookmarking this page or 'liking' it in Facebook.
Share this DOH RN Heals 4 updates to all interested nurses.