A 90-year-old woman from United Kingdom (UK) was the first-ever to receive the Pfizer/BioNTech COVID-19 vaccine outside of clinical trials, and it was administered by a Filipino nurse.
Margaret Keenan, who turns 91 next week, is from Enniskillen, Northern Ireland who participated at the start of the UK's mass vaccination programme. Hubs in the UK will vaccinate over-80s and some health and care staff, in one of the biggest vaccination programme in UK's history.
The programme aims to protect the most vulnerable and return life to normal.
Filipino nurse May Parsons, who has been working in UK NHS for 24 years already, administered Ms. Keenan's vaccine at 06:30 GMT in University Hospital in Coventry.
British Ambassador to the Philippines Daniel Pruce lauded the Filipina nurse for administering the vaccination on Tuesday.
"And great to see that the vaccine is administered by Nurse May Parsons from the Philippines — one of the many thousands of Filipino healthcare workers making such an enormous contribution to the #NHS," he tweeted.
Veteran broadcaster and TV personality Piers Morgan also tweeted:
BREAKING: Margaret Keenan, 90, becomes first person in the world to receive the Pfizer Covid-19 vaccine, from Filipino nurse May Parsons who has worked in the NHS for 24yrs. How wonderful that this historic global moment happened in the UK, at University Hospital, Coventry.
Ms Keenan said: "I feel so privileged to be the first person vaccinated against Covid-19, it's the best early birthday present I could wish for because it means I can finally look forward to spending time with my family and friends in the new year after being on my own for most of the year."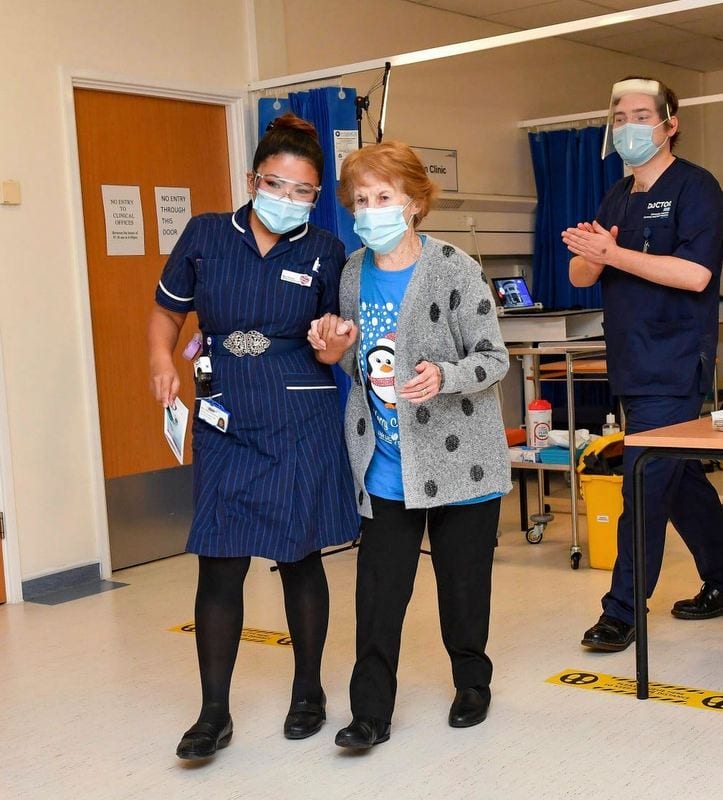 "I can't thank May and the NHS staff enough who have looked after me tremendously, and my advice to anyone offered the vaccine is to take it – if I can have it at 90 then you can have it too."
The UK is the first country in the world to start using the Pfizer vaccine after regulators approved its use last week. Vaccination is not compulsory. (via BBC, Pool photo/Jacob King via Associated Press)