Nurses and teachers have found an ally in Senator Dick Gordon in the 18th Congress especially in heeding the clamor of these professionals for salary increase.
Gordon recently filed Senate Bill No. 562 which seeks to institute comprehensive policy for nurses. And when President Rodrigo Duterte urged Congress to give government nurses and teachers salary hike through a new Salary Standardization Law in his State of the Nation Address, Gordon chimed in:
"We thank the President for supporting our call to increase the salary of our teachers and nurses. But we need to make sure that those working in both government and private institutions will benefit from this."
"Hindi natin maaring pabayaan ang ating mga guro at nurses na nagtratrabaho sa mga pribadong institusyon," Gordon posted in his social media accounts.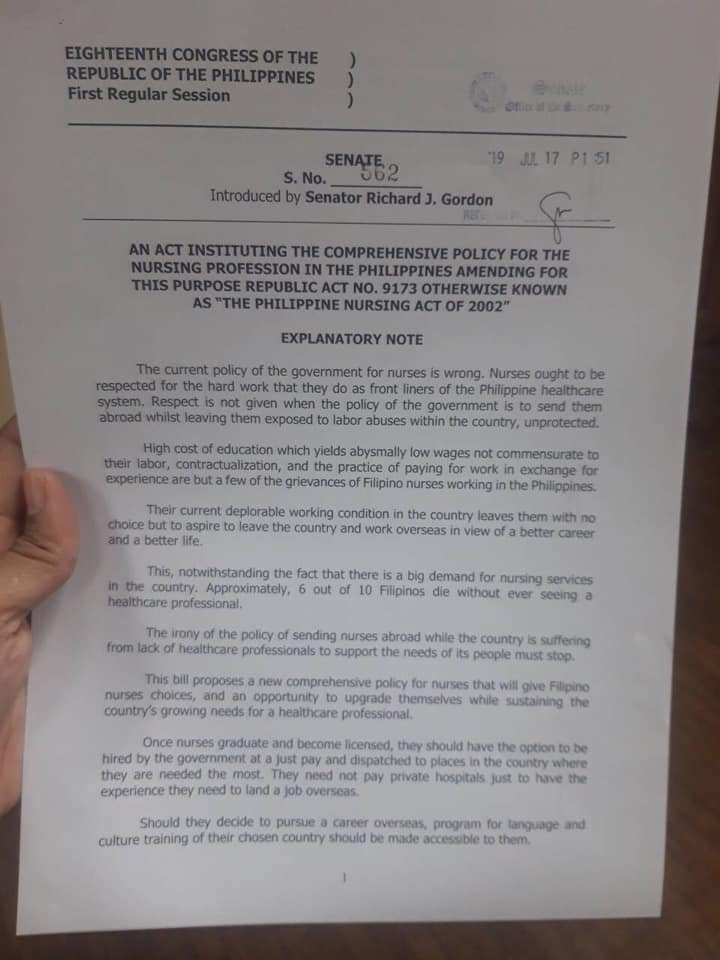 Recently in his recent speech at 45th ORNAP Convention, Gordon also hit the government for not implementing Salary Grade 15.
Related:
"The government promised them SG-15 pero hanggang ngayon, hindi pa rin nakukuha. Mali iyan. Dapat once you pass the exam, it is the duty of the government to give you opportunities. Once nurses graduate and become licensed, they should be hired by the government at a proper pay," he said.
"A nursing student pays up to P500,000 for tuition fees and other educational expenses until he graduates and passes the board exam. However, an entry-level nurse only receives P8,000 to P13,500 on a monthly basis," he added.
Gordon is pushing that local government units (LGU) should allocate a reasonable budget for nurses, and dispatch them to places where health care services are needed the most like in small communities in rural areas.
He is also suggesting that program for language and culture training of countries such as Japan and Germany should also be made accessible to nurses.