A lawmaker from Manila has filed a bill seeking to upgrade the minimum salary of government nurses to Salary Grade 15.
Manila 3rd District Representative John Marvin 'Yul Servo' Nieto filed House Bill No. 2854 entitled 'An Act Upgrading the Minimum Salary of Government Nurses from Salary Grade 11 to 15'.
In his explanatory note, Cong. Nieto noted of the lack of personnel in the carrying out health service in the country. He said that increasing the entry level salary of nurses from SG 11 to SG 15 will encourage the nurses to stay in the country and help address the shortage in the medical workforce.
"Republic Act 9173 or the Philippine Nursing Act of 2002 already provided for the same increase in salary grade. However, due to 'several constraints', its implementation did not see the light of the day," he added.
In 2009, then President Gloria Arroyo issued Executive Order (EO) No. 811 by virtue of a Joint Resolution No. 4 issued by Congress modifying the compensation and position classification system of civilian personnel and the base pay schedule of uniformed personnel in the government.
In an oral argument in Supreme Court, Solicitor General Jose Calida said that Joint Resolution No. 4 effectively repealed Sec. 32 of Republic Act 9173 which sets the SG15 rate. Arroyo's EO No. 811 dropped the minimum salary of nurses to SG 11.
Nieto said that his proposed measure will finally give the nurses their much-deserved salary commensurate to the complexity of their jobs.
"It is high time that we, legislators, heed the plight of our very own nurses who have vowed to serve and protect the health and general well-being of the Filipinos," he concluded.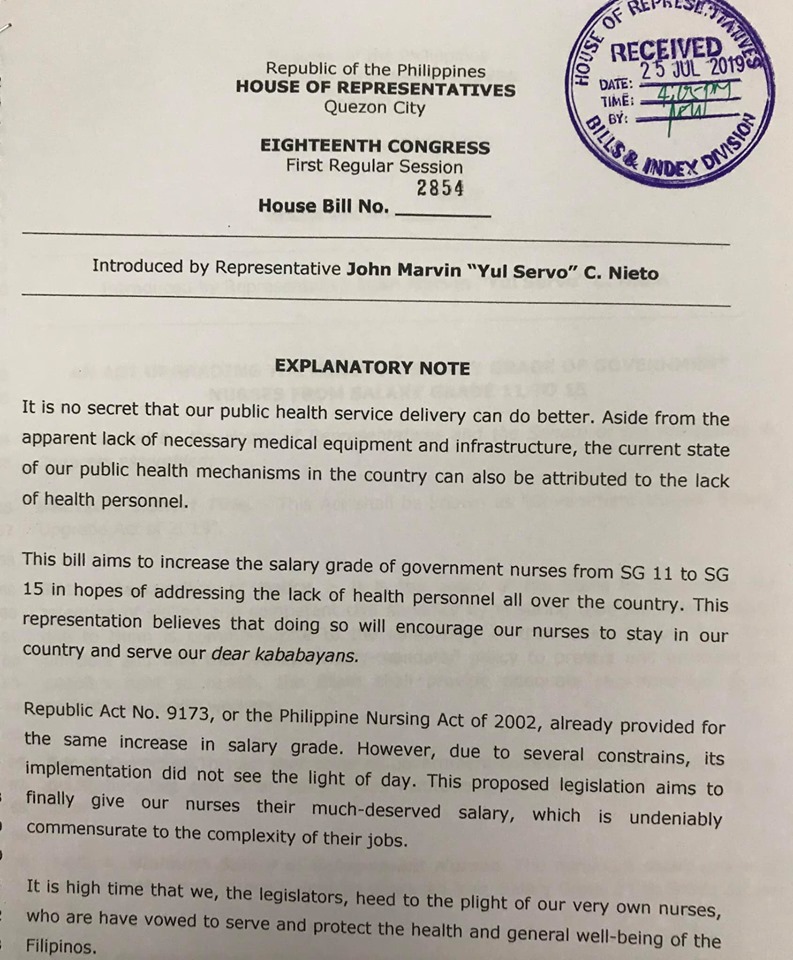 Government nurses' salary is currently at Salary Grade 11 or P20,754. Salary Grade 15 in the fourth tranche of Salary Standardization Law is at P30,531.
If the measure is approved, funding for the salary hike will be charged against Maintenance and other Operating Expenses (MOOE) of Department of Health and be included in the national budget.
In the upper house, Senators Dick Gordon and Kiko Pangilinan filed a similar bills in the first regular session of the 18th Congress.