Herbalife Nutrition Advisory Board (NAB) Chairman Dr. Kent Bradley was in Manila recently for the annual Herbalife Nutrition Wellness Tour, where he shared valuable knowledge about nutrition to both the media and the company's independent members.
Dr. Kent has an impressive background having been trained in the military early in his career. His profile in the company's website states that:
"Kent is passionate about activating change and challenging individuals and organizations to tap into their leadership potential. He has held senior executive roles in the public and private sector. He is the former President of Safeway Health, a health technology solution and service provider supporting total worker health strategies for large commercial clients. He also served as the Senior Vice President and Chief Medical Officer for Safeway, a company with 44 billion dollars in annual revenue and 185,000 employees.
Kent also serves on numerous boards to include the Board of Directors for the Dignity Health System – soon to be the second largest healthcare system in the USA with revenue of over $33 Billion, and the Board of Directors of Concentra Health – the largest occupational health provider in the USA with over 400 clinics. He is involved in multiple community health and wellbeing efforts to include founding a nonprofit, Core Communities. He has worked with multiple health technology companies as a strategic advisor with a special focus on consumer engagement.
Kent is a retired Army Colonel, graduate of the United States Military Academy and has a Master in Public Health from the University of Minnesota, an executive MBA from the University of Denver, and his Medical Degree from the Uniformed Services University of Health Sciences, Bethesda, MD. He is board certified in Public Health and Preventive Medicine. He has a certificate in Corporate Governance from INSEAD."
Knowledge Transfer
During his short visit, he made sure he gets his message across. He said that a lot of efforts are being done within Herbalife Nutrition to ensure a certain quality of the products that they make and how crucial it is to transfer this knowledge to the customer who is seeking certain life goals around their health and well-being.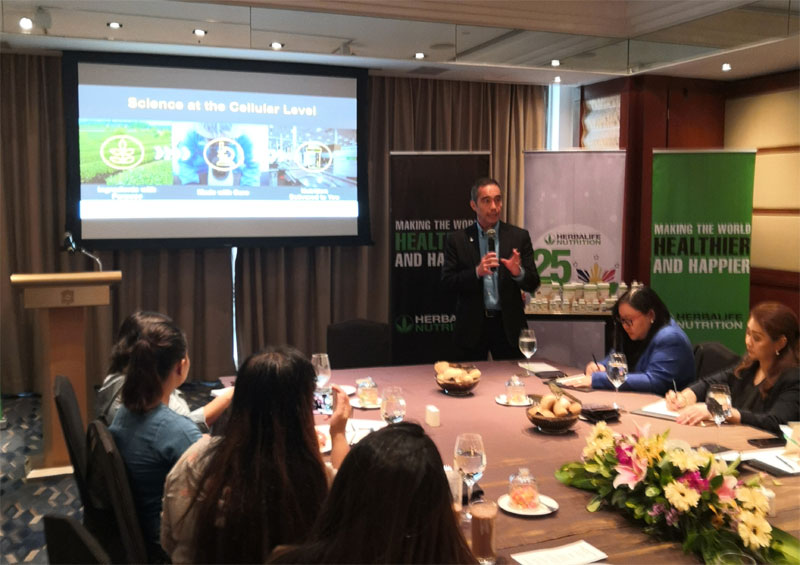 According to Dr. Bradley, they are taking actions toward a more inclusive goal of making life better for everyone. "We are spending a lot more time now on coaching. We are now increasingly using technology. Understanding where we were and understanding the real gaps to get results," he said, adding that, "We all want the same thing. We want a healthier population."
Personalized Meal Plans
One of the crucial information he shared is about "personalizing one's meal plan". He encouraged people to plan their meals to achieve their nutrition goal.
"When you know that you will come home with no time to prepare a meal, you better have a plan ahead of time," he said.
He further added that we should have reminders to keep us on track and not skip a meal or fall back into our old habits. For instance, take a cue from the practical things we can do to fit this meal plan to our day. "Pair the things that are happening in your life with the things that you need to do. There are things that we can substitute that are healthier for us," he said.
Herbalife Nutrition products, like the Formula 1 Shake, is a convenient and complete meal. It contains protein and vitamins and minerals one needs to have balanced nutrition. "We have created a highly dense nutrient-based meal without the high calories… Our shake, even if you add a banana to it, will get you only about 240 calories. It's a significant reduction in calories while also giving you the micronutrients, vitamins, and minerals that you hope to have in a typical meal," he explained.
Herbalife Nutrition is a premier global nutrition company. It has been in the Philippines for 25 years now.