A day after posting the list of successful applicants for 2014 Nurse Deployment Project (NDP) in Region 7, DOH-CHD announced the schedule and venues of pre deployment orientation (including HFEP nurses), and the requirements to be submitted.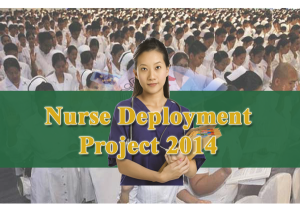 Pre-deployment Orientation details
Orientation for NDP and HFEP nurses will be on January 16-17, 2014 at the following venues:
CEBU: Sarrosa International Hotel and Suites, Brgy Kasambagan, Cebu City
BOHOL: JJ's Seafoods House, Tagbilaran City
NEGROS ORIENTAL AND SIQUIJOR: Plaza Maria Luisa Suites, Dumaguete City
Registration will start at 7:30AM. This will be a LIVE-OUT activity.
Requirements for NDP 2014
1. Contract of Service (kindly affix your signature); Notarization fee: P100
2. Personal Data Sheet (CSC form 2012)
2 pcs 2×2 pictures
Community Tax Certificate number
Please fill up all portions in Handwriting only
Write N/A if not applicable
3. Updated PRC license (photocopy back-to-back)
4. Medical Certificate (CSC form 211)
CBC, Urinalysis, Chest X-ray, Drug Test
To be signed by government physician
5. Diploma
6. Recent NBI clearance
7. BIR Application for Registration Form 1902 (for those without TIN) and BIR Form 2305 (for updates)
Cash Cards for NDP
1. Enrollment form
Fill up Cardholder Info portion only.
Don't forget to affix your signature at the back of the form.
2. 2pcs 2×2 pictures
3. Photocopy of 2 valid IDs (back-to-back); Kindly affix your signature on each photocopy of ID.
4. LandBank Card Application fee: P100
Please bring 1 long brown envelope for your documents.
Please share to all accepted nurse for NDP 2014.