The Department of Health Provincial Health Office in Bataan has posted the list of successful applicants for 2014 Nurse Deployment Project. Schedule of pre-deployment orientation has also been released.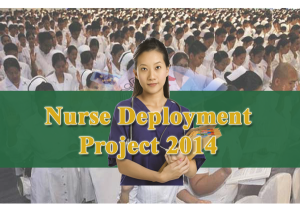 The province of Bataan is under Center for Health Development – Region 3 office, together with Aurora, Bataan, Bulacan, Nueva Ecija, Pampanga, Tarlac, and Zambales in Central Luzon. Other provinces haven't posted online the list of accepted applicants yet; they just texted the hired nurses.
Those who have been accepted in Bataan will have Pre-Deployment Orientation will be on January 13 and 14 at Stotsenburg Hotel, Clarkfield, Pampanga, 9:00am onwards.
Successful Applicants
ABUCAY (6)
Malibunas, Reynalyn G.
Wayaway, Joralyn Caragay
Estrella, Arnie Hernandez
Silva, Karen Grace B.
Dela Cruz, Bryan Ramichan M.
Estrella, Mariel L.
DINALUPIHAN (8)
Cuenco, Ana Katrina E.
Martin, Albert
Kenneth Quiatchon Aaron
Bautista, Kristina Cassandra R.
Mercado, Camille V.
Lapid, Gene Zachary
Macarubbo, Joanna Marie
Calilong, Karla Monica
HERMOSA (7)
Bugay, Aidan
Gaza, Anna Patricia
Noderama, Ronnel
David, Jerald
Vitug, Chester
Agustin, Mayall
Arcega, Richelle
ORANI (7)
Baldoz, Michelle
Pantig, Maria Kristine
Ocampo, Emmanuel
Agulto, Jude Lorenz
Reyes, Ruby Faye
Borillo, Angela Elaine
Medina, John Carlo
SAMAL (6)
Santos, Jeoffrey Jay
Paulo Suzana Jezika Z.
Remonida, Philipa Marie
Tejad, Amri Ann
Bengzon, Regine Rose
Valerio, Taxia Blaise
BALANGA CITY (8)
Martin, Leah R.
Trivilegio, Julie Ann D.
De Guzman, Grace
Madeja, Jennifer
Arellano, Kristine Erika T.
Baluyot, Meigan Mae T.
Olar, Ana Margarita
Tuazon, Rachel
PILAR (6)
Flores, Ailyn B.
Carlos, Maria Krisma
Artuz, Elaine
Solomon Sharifa
Jenina Joy Teodoro
Mendoza, Alyssa Ann
ORION (6)
Soriano, Bernadette P.
Carlos, Araceli
Gemina, Mary Krisna R.
Bartolo, Mary Cristel
Cruz, Jocelyn
Gonzales, Ernialaine
LIMAY (6)
Cabuling, Ronnie D.
Roxas, Arnulfo Jr.
Tolentino, Sharmaine
Roxas, Pamela Jeralie
Esteban, Charles Anthony
Diuco, Joyce
MARIVELES (6)
Enriquez, Lexter Louie
Melad, Solemn
Antoc, Paul Antonie
Manuel, Rosalie
Romero, Hannah
Melo, Dexter
MORONG (6)
Medina, Cathrina J.
Valdez, Amreen O.
Seredio, Dianne Rhea
Bugay, Clarisse S.
Mangayao, Andrelyn
Guerrero, Liza
BAGAC (5)
Palafox, Ronald Allan
Gutierrez, Abigail
Canlas, Clarence
Herbon, Catherine M.
Arceo, Manilyn
NDP 2014 nurses will be deployed to communities around the country and will receive monthly compensation of P18,549.
Please share to all applicants in Bataan. Congratulations!