Filipino nurses who dream of working in the United States will be elated to see that the EB-3 category for Philippines is now in 'Current' status!
United States Department of State announced in the upcoming Visa Bulletin for October 2020 that the Employment Based Category 3 (EB-3) Visa for the Philippines will become CURRENT, which means that numbers are authorized for issuance to all qualified applicants. The status is Current for 'Final Action Dates' and 'Dates for Filing'.
The Final Action Dates chart shows which priority dates have reached the front of the line. These green card applications are ready for approval right now.
The Dates for Filing chart shows which green card applicants who are living outside of the United States should go ahead and submit their application with the National Visa Center (NVC) even though a green card is not ready just yet. The cut-off dates are in the "Dates for Filing" chart, which allows green card applicants to file their application that much sooner.
Based on Visa Bulletin, if a category is designated Current, all applicants in the relevant category may file, regardless of priority date.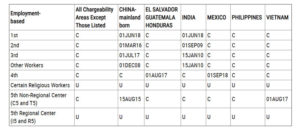 On the movement of Final Action Dates and Date of Filing for EB Category this October, US Department of State said:
"All of the Final Action and Application Filing Dates have been advanced at a very rapid pace, in anticipation of the FY 2021 annual limit being approximately 261,500, an all-time high. The movement of these dates has been taken in consultation with USCIS Office of Policy and Strategy to accommodate processing plans for USCIS Offices during the coming fiscal year and to maximize number use within the FY 2021 annual limits. Pending demand, in the form of applications for adjustment of status, and documentarily qualified immigrant visa applicants, is well below the estimated annual limit of 261,500. "
EB-3 Visa is for Skilled Workers, Professionals, and Other Workers, which includes nurses. This Visa allows nurses to go to the US to live and work permanently there. Nurses may also bring their family with them.