Philippine Nurses Association (PNA), the accredited professional organization of nurses, and nurse advocacy group Ang Nars Partylist lead the call for implementation of Salary Grade 15 minimum rate for nurses as Supreme Court tackles it in an Oral Argument on February 26, 2019.
In its position statement, PNA said it "stands with other professional organizations in calling for the Supreme Court to classify nurses as Salary Grade 15 and to compel thee Executive Secretary, Department of Budget and Management (DBM), and Department of Health (DOH) to pay nurses according to what the law stipulates."
The case in high court stemmed from the Petition for Certiorari and Mandamus filed by Ang Nars Partylist and Public Services Labor Independent Confederation ("petitioners"), against the Executive Secretary, the Secretary of Budget Management, and the Secretary of Health ("respondents") on January 8, 2015.
In its website, Association of Young Nurse Leaders and Advocates, Inc. (AYNLA) detailed that the petitioners raised three paramount issues and assailed, inter alia, that the Executive Order 811 exceeded the jurisdiction granted to it by Joint Resolution No. 4 when it downgraded the salary grade of government nurses; Joint Resolution No. 4 did not amend Section 32 of the Philippine Nursing Act of 2002 by lowering the entry level for nurses; and respondents committed grave abuse of discretion in asserting that the entry level for government nurses should be Salary Grade "11" disregarding the provisions of the Philippine Nursing Act of 2002.
The Supreme Court En Banc, in an advisory, directed the parties to limit their presentation of oral argumentations on the following issues: (1) Whether Joint Resolution No. 4 has repealed Section 32 of Republic Act No. 9173, and (2) whether the Supreme Court can compel the respondents to pay nurses their compensation under Salary Grade 15 as prescribed in Section 32 of Republic Act No. 9173.
Likewise, the Solicitor-General was directed to confer with Congress for the submission of position papers to address whether a joint resolution can amend or repeal an existing law, and on how the passage of a bill into law compares with the passage of a joint resolution.
Supreme Court schedules the oral arguments at 2:00 P.M. of February 26.
PNA also enjoins all nurses for a nationwide Walk for Just Compensation, to ensure that their position on the matter is made clear, and to add voices to the clamor for proper compensation.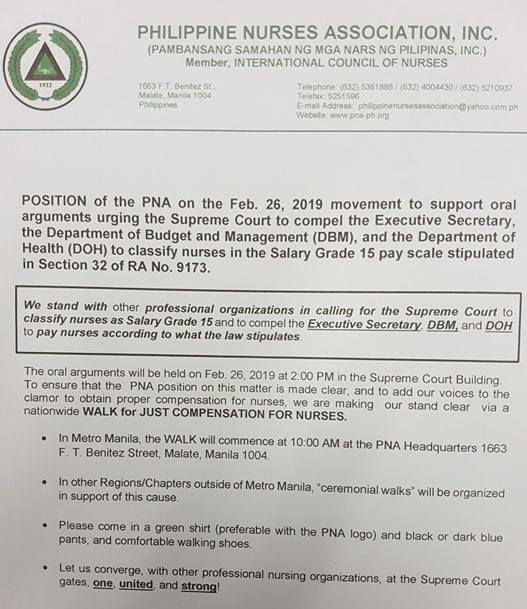 Petitioner Ang Nars Partylist urged nurses to show up in this 'groundbreaking event as very few petitions are allowed to have oral arguments.'
"This is a rare chance to show decision-makers that NURSES are a powerful, united, and strong force that they cannot ignore," said Nars Melbert Reyes, one of the movers of advocacy group.
In Metro Manila, the 'Walk' will start at 10 AM of February 26, from the PNA Headquarters in Malate, Manila. Other PNA chapters and regions outside Metro Manila will also organize 'ceremonial walks' in support of the cause.
"Safe and quality patient care demands the right salary! Let us forget our differences and unite for this worthy cause for nurses' welfare!" said Ang Nars.