The next Nurse Licensure Examination (NLE) for this year will be on December 7 and 8, 2013 and room assignments for qualified examinees are already out in some testing centers.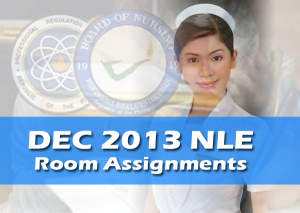 Professional Regulation Commission (PRC) will administer the December 2013 NLE in cities of Manila, All Regional Offices, Zamboanga, Angeles, Cabanatuan, Dagupan & Laoag City. Thousands of aspiring nurses will troop to their respective exam centers to take the board exams given by Board of Nursing.
The members of the Board of Nursing are Carmencita M. Abaquin, Chairman; Leonila A. Faire, Betty F. Merritt, Perla G. Po, Marco Antonio C. Sto.Tomas, Yolanda C. Arugay and Amelia B. Rosales, Members.
If you are one of the examiness, check your school and building assignments below and then visit it a day before the exam. I'll update the links as soon as it is made available by the regulating body.
December 2013 NLE room assignments
If the room assignments for your testing location is not yet available, please check back on a later time.
PRC Instructions to examinees:
Examinees should report before 6:30 in the morning every examination day. LATE EXAMINEES WILL NOT BE ADMITTED.
Bring the following: Notice of Admission (NOA), Official Receipt, pencils no. 1 or 2, black ball pens, metered-stamped window mailing envelope, long brown and long plastic envelopes.
CELLULAR PHONES AND OTHER ELECTRONIC GADGETS ARE STRICTLY PROHIBITED.
Wear the prescribed dress code.
Use same name in all application forms. If there's any error in spelling please report to application division or request room watchers to correct it on the first day of board exam.
Please share to other examinees. For updates, Like Nurse Updates in Facebook or subscribe via email.