PRC Regional Office in Baguio has released the Cabanatuan room assignments for December 2013 Nurse Licensure Examination (NLE) and it can be viewed here.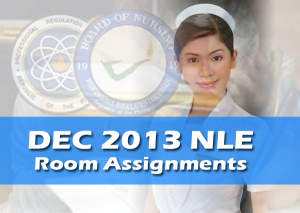 The December 2013 NLE will be conducted in Cabanatuan, Manila, All Regional Offices, Zamboanga, Angeles, Dagupan & Laoag City on December 7 and 8, 2013. Thousands of aspiring nurses will troop to designated testing centers spread out in those locations.
In Cabanatuan, the exam centers are The Good Samaritan College in Burgos Avenue and Wesleyan University in Mabini Extension. If you are one of the examinees, check your name and room assignments:
Cabanatuan Room Assignments
PRC INSTRUCTIONS:
Examinees should report before 6:30 in the morning every examination day. LATE EXAMINEES WILL NOT BE ADMITTED.
Bring the following: Notice of Admission (NOA), Official Receipt, pencils no. 1 or 2, black ball pens, metered-stamped window mailing envelope, long brown and long plastic envelopes.
CELLULAR PHONES AND OTHER ELECTRONIC GADGETS ARE STRICTLY PROHIBITED.
Wear the prescribed dress code.
Please share to all examinees in Cabanatuan City! For other testing locations, please see this complete list of NLE room assignments here.