It's never too late to pursue your passion.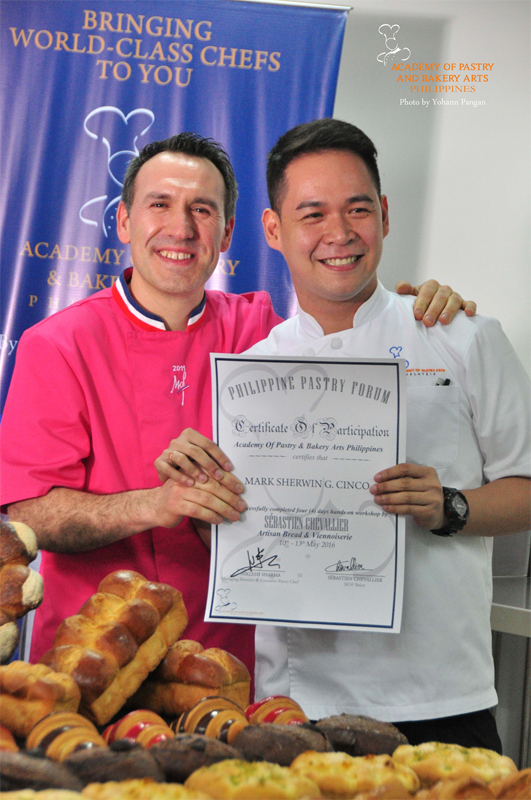 Sherwin Cinco had been working as a nuclear medicine technician at a local hospital for five nearly years, when he decided that it was time for a change.
He has just decided to resign from his job and pursue his dream of opening his own coffee shop. After attending a short course at a coffee school, he began to search for a school that would provide him with the basic skills he needed in pastry making & bakery arts.
He shared, "Although I never had any formal training, I knew that baking was my biggest passion. I did some research and visited all the pastry schools in Manila. I became very interested in the curriculum of the Academy of Bakery and Pastry Arts Philippines, so I signed up for the six-month diploma course."
Sherwin observed that one advantage of studying at the Academy was that the students are required to attend classes daily and are kept busy throughout the whole day with theoretical lectures, hands on training and demonstrations, as well as visits to nearby hotels with patisseries. What impressed him the most was the exposure and knowledge he gained from attending the four-day master class in bread making and viennoiserie (artisan bread) with Chef Sebastien Chevallier.
"The Master Class with Chef Chevalier was a great experience for me. I learned a lot of techniques and insights, beyond pastry making, beyond my imagination, which only an MOF chef can impart. Working with an MOF chef for the first time was truly unforgettable. It felt like I was at home working with a master chef, who made sure that I would feel comfortable in class."
After this experience, Sherwin looks forward to attending more master classes at the Academy, and eventually, practicing his skills.
Learning from Chef Chevallier
Since April, the Academy has welcomed four European pastry master chefs who conducted a series of Master Classes via the first Philippine Pastry Forum. Sherwin was lucky enough to encounter them at the Academy.
The intensive and hands-on workshops gave Filipino homemakers and professionals the rare opportunity to learn techniques from these globally acclaimed chefs, who are recipients of the prestigious title "Un des Meillerus Ouvriers de France", or M.O.F. ("One of the Best Craftsmen of France".)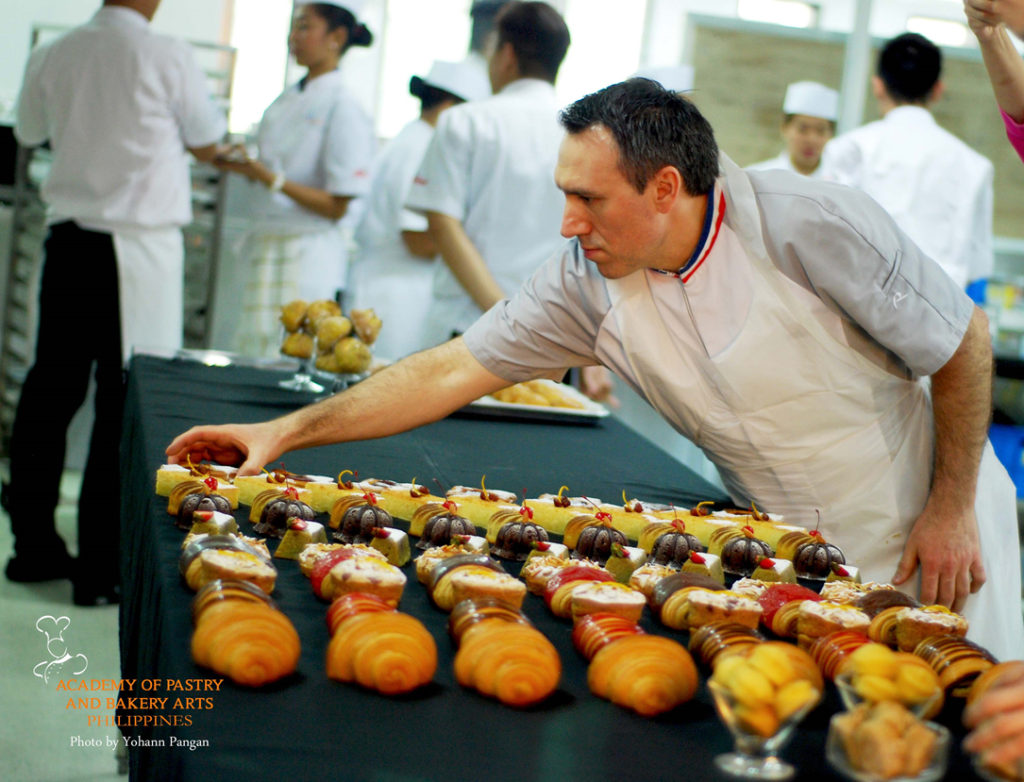 This distinction is the highest honor conferred by the President of France to top professionals successfully competing in their respective fields.
Chef Chevallier (MOF Baker, 2011) visited Manila to conduct the master class in Artisan Bread and Viennasoire from May 10 to 13. While he started his apprenticeship at an early age of fifteen, he spent 11 years honing his skills in Bakery and Pastry Arts in Eastern France (CFAMA de Vesoul), where he earned a Master's Degree (Brevet de Maltrise en Boulangerie) in 2003. He participated in competitions in France from 2009 to 2010, culminating with the title of M.O.F Baker in 2011 . He continues to teach at CFAMA de Vesoul, while travelling to Asia to conduct classes for professional pastry chefs, bakers, pastry schools and bakery shops.
He believes that teaching entails striking a balance between maintaining discipline and creating a dynamic environment in the kitchen. He also thinks that it is not healthy to put students under too much pressure.
"The key is to know when the class needs to be focused and serious, while keeping the atmosphere light and enjoyable," he shared.
Chef Chevallier revealed that whatever standards and quality he applies in France, he duplicates in the Academy. Moreover, he believes that it is now his turn to share the knowledge and skills he has acquired over the years. His advice to young students– discover and nurture your passion for your craft, because this is what will inspire you and keep you motivated.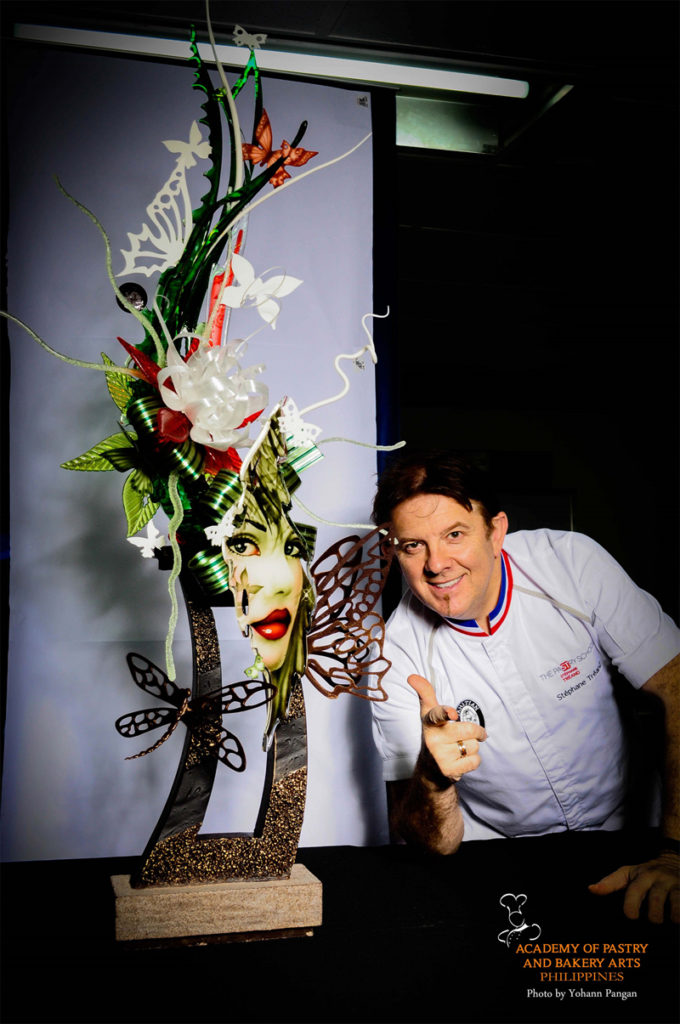 More pastry masters
Another pastry master who recently held a class at the Academy was Chef Stephane Treand (MOF, 2004). He conducted a Sugar and Chocolate Display class from May 6 to 9.
Chef Treand is a multi-awarded pastry master who began his career in northern France. He first attended courses in a pastry school in Vincennes, Paris, while working as an apprentice at a bakery shop. His career in pastry led him to mentoring aspiring chefs, which eventually led him to coaching the United States Team, which won them a bronze medal at the International Pastry Competition in Tokyo, Japan, in 2009.
"As a chef, it's important to go beyond the four corners of your kitchen. Travelling and teaching in different countries allows me to learn new concepts, and even revisit an idea and present it in a different way," he explained.
Lastly, Chef Frederic Hawecker (MOF Chocolatier, 2011) conducted the master class in Chocolates and Candy Making from May 10 to 17.
Chef Hawecker opened his chocolate shop and patisserie in 2002 in Chateaurenard, located in the north-central area of France. He was a former apprentice and instructor at Ecole Nationale superierure de Patisserie in Yssingeaux, one of the most reputable schools in food trade.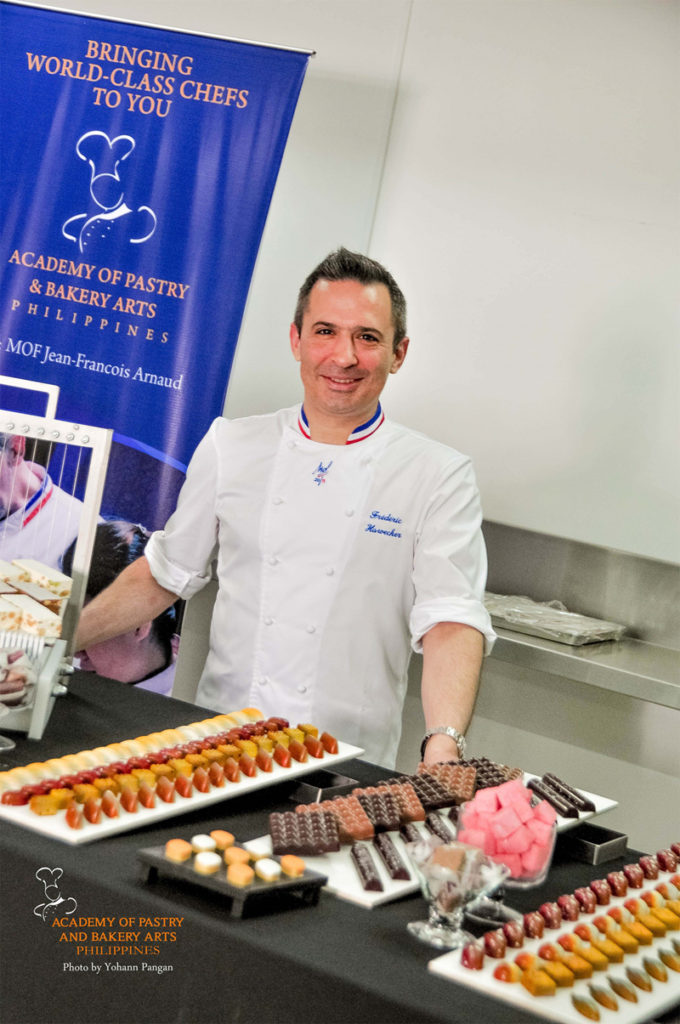 Studying at the Academy
The Academy of Bakery and Pastry Arts Philippines opened its doors on August 2015, and initially offered full-time and part time programs. The three and six-month diploma courses aim todevelop the skills of full-time students and professionals, while the part-time (weekend) programs are for enthusiasts who wish to learn techniques in basic pastry and bakery arts. All classes are held at the fourth floor of the Metro House Building along Sen. Gil Puyat Avenue, Makati.
Established in 2011, the Academy of Bakery & Pastry Arts operates world-class facilities in Kuala Lumpur (Malaysia), New Delhi (India), and Manila (Philippines). The Manila branch is the only branch branded under the name of MOF Chef Jean Francois Arnaud, who happens to be the brand ambassador of Fontera and Haagen Daz. Chef Arnaud also held a master class on French pastries.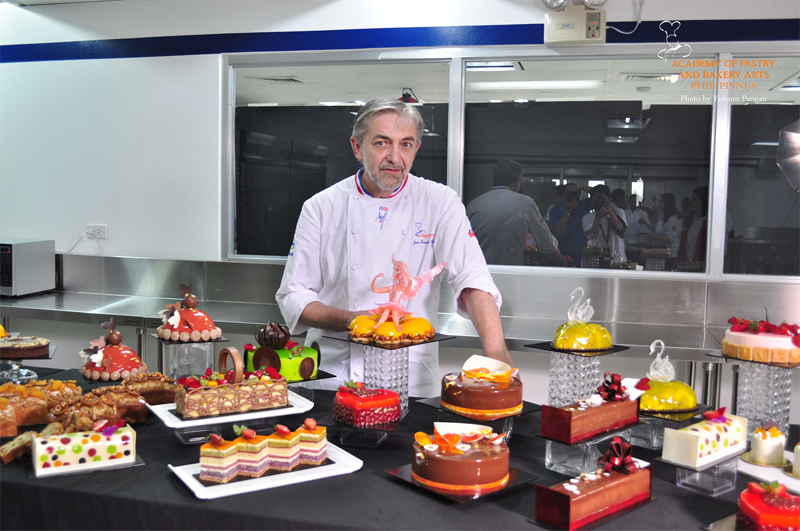 For more information, visit www.academyofpastryartsphilippines.com or email info@academyofpastryartsphilippines.com. You may also contact their landline at 894-2395 or mobile numbers 0917.2039089 and 0947. 7558979. They may also check out their Facebook Fan Page at https://www.facebook.com/Academy-of-Pastry-Bakery-Arts-Philippines-893034680768333/?fref=ts.