There are over 1,000 nurses infected with Coronavirus Disease 2019 (COVID-19) in the country, according to the latest report by the Department of Health.
In the latest COVID-19 Philippine Situationer No. 41 of the DOH, a total of 2,734 healthcare workers are affected by the fatal disease. Of the number, active cases are at 1,145 with 1,557 recoveries and 32 deaths.
Top on the list of infected health workers are nurses at 1,006, followed by physicians at 737, nursing assistant at 178, medical technologist at 110, radiologic technologist at 57, and other non-medical staff at 347.
Of the 32 deaths, 25 are physicians, three are nurses, and the rest are non-medical staff.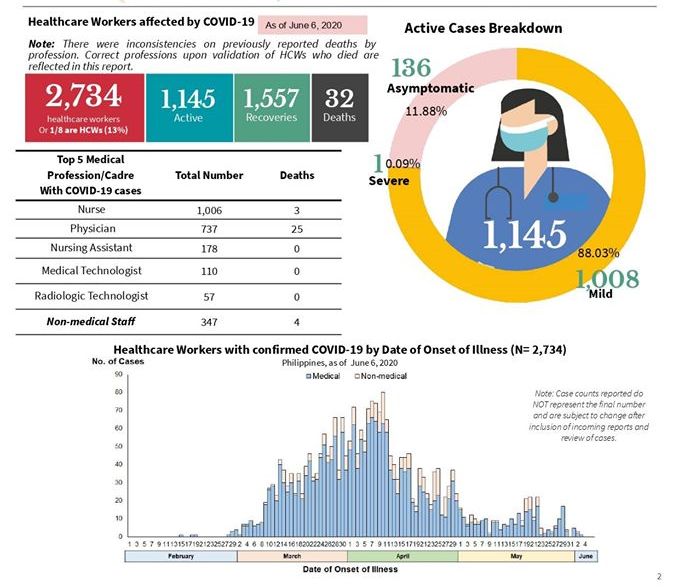 Cash assistance for health workers
Meanwhile, DOH Spokesperson Maria Rosario Singh-Vergeire said that as of Monday noon, all 32 checks for the healthcare workers who succumbed to Covid-19 have been prepared, with 26 already received by their families.
"Twenty-six have been received by their families, while four have final pending documents, such as special power of attorneys before they can receive the checks. Ang dalawa naman po na natitirang pamilya ay nasa labas ng bansa (The remaining two families are currently outside of the country)," Vergeire said.
For the two cases with families abroad, she said a discussion with the families is ongoing to decide which of their relatives in the Philippines may receive the checks on their behalf.
For health workers who contracted Covid-19 and experienced severe symptoms, she said 10 checks, from the 42 initially reported cases, have been received by the beneficiaries.
These front-liners, eligible to receive PHP100,000 according to the "Bayanihan to Heal as One Act," include 10 more who are still preparing the necessary documents, she said.
"Ang iba ay napag-alaman natin, base sa kanilang medical abstract, na hindi pa sila severe cases kaya hindi po sila (We found that the others, based on their medical abstract, are currently not severe cases and so they are not) eligible to receive the benefits," Vergeire said. (With reports from PNA)