Department of Health (DOH) has announced that the new RN Heals will be called Nurse Deployment Project 2014, and the application form and instructions found here.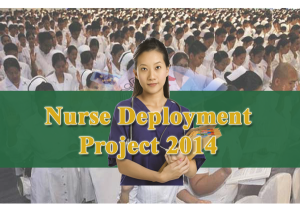 DOH has previously hinted that in the project, nurses will be deployed to communities and be compensated with as much as P18,000 monthly salary. The agency also announced that they are accepting applications for the project, to be submitted directly to the Centers for Health Development (CHDs) with the duly accomplished Application Form.
See full guidelines of the project in this post. Here's the schedule:
Nurse Deployment Schedule
Recruitment and Selection: November 4-29, 2013

Deployment: January 2 – December 31, 2014
More information on the Nurse Deployment Project can be taken from CHDs in your respective regions. Here's the list of CHDs, contact numbers and their contact persons.
List of CHDs for Nurse Deployment Project
CHD for NCR (Metro Manila)
Welfareville Subd., Mandaluyong City
Dr. EDUARDO C. JANAIRO, Director IV
531-0037, 531-0034
531-0027, 531-0027 (F)
eduardojanairo@yahoo.comCHD for CAR
BGHMC Compound, Baguio City
Dr. VALERIANO V. LOPEZ Director IV
(074) 442-8098,442-7591 (F)
vvlopez2@yahoo.comchd_cordillera@yahoo.comCHD for ILOCOS (Region 1)
San Fernando, La Union
Dr. MYRNA C. CABOTAJE Director IV
(072) 607-6413, 607-6426, 242-4774, 242-5981 (F)
mycam09@yahoo.com, rdo_ilocos1@yahoo.comCHD for CAGAYAN VALLEY (Region II)
Tuguegarao, Cagayan
Dr. RIO L. MAGPANTAY, Director IV
(078) 304-6523 (TF)
chdcvdoh@yahoo.comCHD for CENTRAL LUZON (Region III)
San Fernando, Pampanga
Dr. LEONITA P. GORGOLON, Director IV
(045) 861-3425 (TF)861-3426 Local 135
doh_chd3@yahoo.comCHD for CALABARZON (Region IVA)
Project 4, Quezon City
Dr. NESTOR F. SANTIAGO, Jr. Director IV
990-4032 Local 123
chd4a_doh_calabarzon@yahoo.comCHD for MIMAROPA (Region IVB)
Project 4, Quezon City
Dr. ARIEL I. VALENCIA Director IV
912-0195 Local 144, 913-4560, 912-7754 (F)
aivalencia@yahoo.comCHD for BICOL (Region V)
Legaspi City
Dr. GLORIA J. BALBOA Director IV
(052) 483-5656,438-5659 Local 104 (F)
chd_bicol@yahoo.com.phCHD for WESTERN VISAYAS (Region VI)
Mandurriao, Iloilo City
Dr. MARLYN W. CONVOCAR
OIC, Director IV
(033) 321-0204; 321-1036, 321-1036/ 321-0235 (TF)
mconvocar@yahoo.comCHD for CENTRAL VISAYAS (Region VII)
Cebu City
Dr. JAIME S. BERNADAS Director IV
(032) 256-2128; 253-6355; 254-0109 (F)
jimbernadas@yahoo.com.phCHD for EASTERN VISAYAS (Region VIII)
Tacloban City
Dr. JOSE R. LLACUNA, Jr. Director IV
(053) 323-5027; 323-5069 (F)
llacunajr.jose@yahoo.com
CHD for ZAMBOANGA PENINSULA (Region IX)
Zamboanga City
Dr. NIMFA TORRIZO OIC, Director IV
(062) 992-2745; 991-3380 (F)
dohchdzp@yahoo.com
CHD for NORTHERN MINDANAO (Region X)
Carmen, Cagayan de Oro City
Dr. ARISTIDES C. TAN Director IV
(08822) 727-400 (TF)
seditsira12@yahoo.com
rd@chd10.doh.gov.ph
CHD for DAVAO (Region XI)
Bajada, Davao
Dr. ABDULLAH B. DUMAMA, Jr. Director IV
(082) 227-5903, 221-6320, 221-6320 (F)
abdumamajr@yahoo.com
chddr_rd2009@yahoo.com
CHD for SOCCSKSARGEN (Region XII)
Cotabato City
Dr. TEOGENES F. BALUMA
Director IV
(064) 421-4726 Local 202, 421-2373 (TF)
tfbaluma@yahoo.com
CHD for CARAGA
Narra Rd., Butuan City
Dr. MINERVA P. MOLON -OIC, Director IV
(085) 342-5208 Locals 116, 124
dohchdcaraga@gmail.com
DOH ARMM
ARMM Cmpd., Cotabato City
Dr. KADIL M. SINOLINDING
Secretary of Health
(064) 421-7703, 421-2940, 421-5189, 421-6186, 421-6842
doh@armm.gov.ph
Updates by Region
Download Application Form here or here. For more updates just keep it here on this site or Like our Facebook page or Subscribe to our email newsletter.