The Department of Health has finally released the official guidelines of RN Heals 4 in its Facebook page for the information of all nurse applicants and other stakeholders.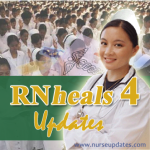 The full text of RN Heals 4 Guidelines is composed of 5 pages, signed by Secretary Enrique Ona. It was posted as image file, us here in Nurse Updates took the liberty to compile and convert it to one PDF file for easy reading of interested parties.
Highlights of RN Heals 4 Guidelines
RN Heals nurses shall be assigned in DOH Hospitals or RHUs as pre-service trainees for 1 year, from January to December 2013.
Nurses shall receive monthly allowance of P8,000, Philhealth insurance premium of P2,400, GSIS insurance of P500.
Nurses shall be awarded with Certificate of Completion after satisfactory completion of RN Heals.
DOH Hospitals(for hospital training) and CHDs(for rural health units) is in charge of recruitment and selection of trainees starting October 29-November 29, 2012.
Only nurses with official and valid PRC license may apply.
Nurses who have previously engaged in RN Heals are disqualified to re-apply.
For full text of RN Heals 4 Guidelines, read here:
Use the FullScreen function for better reading.

Please share this RN Heals 4 guidelines to all nurse who are interested to apply.