Philippine Overseas Employment Administration (POEA) announced that Japan needs 500 nurses from the Philippines.
The nurses will work first as nursing assistants in Japan before they can be fully recognized as Registered Nurses after passing the Japan Nurse Licensure Exam.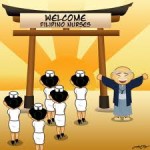 This nursing jobs in Japan is under the Japan-Philippines Economic Partnership Agreement or JPEPA.
The POEA will screen applicants for the job openings starting in November.
Qualifications for Nursing Job in Japan:
Bachelor of Science in Nursing graduate
Nurse Licensure Examinations passer
At least 3 years work experience in a hospital
Physically Fit
Successful nurse applicants is expected to earn JPY 200,000 or around P100,000 monthly while working as a nursing assistant.
Qualified nurses can file their applications online at www.poea.gov.ph or www.eregister.poea.gov.ph.
Report from [abs-cbnnews.com]