The Department of Health – Center for Health Development Region 12 has announced the list of successful applicants for 2014 Nurse Deployment Project (NDP) in SOCCSKSARGEN.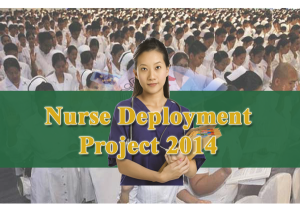 SOCCSKSARGEN region covers the areas of South Cotabato, Cotabato, Sultan Kudarat, Sarangani and General Santos City.
The application in Region 12 has ended on November 25 and with the written exam administered on November 28. Here are the qualified nurses:
Cotabato City
1. Baraguir, Hosni
2. Chin, Stephen Henry
3. Datu, Sittie Norhans
4. Guiani, Jorhaida
5. Mantigue, Reyjane
6. Sampulna, Jomedelle
7. Taki, Aysha Jennica May
Gen. Santos City
1. Entera, Romarie Hannah
2. Gangoso, Arjohn
3. Guioguio, Belle Patrice Esther
4. Hechanova, Charmaine
5. Josol, Mary Rose
6. Navales, Lenyth
7. Tadem, Ma. Elena
8. Tila, Mary Louise
The hired nurses will be compensated with P18,549 monthly salary. Please contact CHD12 on details of Nurse Deployment Project 2014.
[via Source]