The Department of Health – Center for Health Development (DOH-CHD) in Region 4-A has announced the schedule of pre-deployment orientation for successful applicants in 2014 Nurse Deployment Project (NDP) and Rural Health Midwives Placement Program (RHMPP).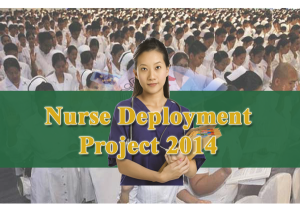 Here's the announcement as posted in Facebook page:
ATTENTION: To all Accepted RHMPP and NDP Applicants

Activity: PRE-DEPLOYMENT ORIENTATION of the RHMPP and NDP

Date: January 8-10, 2014 (Orientation will start at 1:00 PM)

Venue: Queen Margarette Hotel, Diversion Road, Lucena City

Attire: Wear WHITE UNIFORM
Nurses in the NDP will be employed for six months, renewable up to 2 years depending on the very good performance. They will be compensated with monthly salary of P18,549.
Please share this information to all accepted nurses in Region 4A.