Registered nurses in San Fernando, Pampanga now have the opportunity to practice their profession and serve the public under the government's Outreach Community Advocate Nurses Assigned in Rural Service (OCANARS) program.
OCANARS is an initiative program of Mayor Oscar S. Rodriguez that aims to improve the delivery of health care services to the city by assigning nurses in rural service and deploying them in the city's 35 barangays.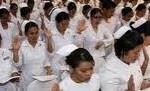 It is also a way of protecting newly registered nurses from exploitation of some private hospitals which demand fees for training.
This is the fifth batch of OCANARS that will be deployed in the community. They are composed of 81 nurses that will assist in the city's health advocacy, including vaccination, monitoring ailments and common and seasonal diseases for six months.
It is also part of the city government health agenda dubbed "Beinte Kwatro Oras, sa Sakit Walang Atras".
Meanwhile, during the recent culminating rites for the 4th batch of OCANARS, nurses expressed their gratitude to the city government for the opportunity and learning they have earned during their service in the community health nursing.
"The lessons and experience we acquired from this training will always stay in our hearts. The training as a whole gave us the motivation to strive to become successful in the future." Elaine de Jesus, program coordinator of OCANARS Batch 4.
"With this program, we allow them to get the necessary experience they can use for their future endeavor plus giving them allowance as well" said Rodriguez, adding that OCANARS personnel will be hired as project-based employees earning minimum wage.(via PNA)