Are you ready to make Pearsonvue NCLEX registration so that you can have your ATT and schedule your exam?
After several months of processing and waiting, the State Board of Nursing where you applied in finally approved your NCLEX application and sent you eligibility letter. What should you do next? Well, ready your $200 and register with Pearsonvue Professional Testing for your NCLEX Exam. Here are the steps:
Pearsonvue NCLEX Registration
1.Go to www.pearsonvue.com/nclex
2.Click the Register link.

3. Click the Credit Card link. Pearsonvue will direct you to Personal Information.

4.Fill in your details as shown below. Click Next.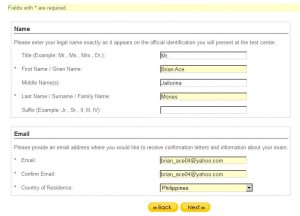 5.Enter your Address and Phone number. Follow the correct format below. Click Next.


6.Complete more fields as shown below. Click Next.


7.Create your own username, 6 or more characters. You will need this when logging in to your Pearsonvue account to update your details, check for available schedules, etc. Password will be emailed to you by Pearsonvue later. Click Next.


8.Type of Exam: Click the NCLEX-RN radio button. Next.


9.Choose the Pearsonvue Testing Center where you would like to test. Next.


10.More details. If you're first time NCLEX taker, click NO on first 3 questions. Then on the Nursing Program, drop down to Philippines. Wait for the page to refresh. Leave the City and Program Code fields blank. Click Search. Wait for the Pearsonvue page to refresh.


11.Click the PHILIPPINES radio button. Wait for page to refresh. Select your month and year of graduation and your Board of Nursing. Click Next.


12.Billing. If you're using another person's Credit Card or if your address is different from the Card's billing address, UNCHECK the Billing address matches address below box, wait for the page to refresh, and supply the Address and the Telephone number. Then supply the to Pearsonvue your Credit Card Information. Click NEXT.


13.Confirm the registration by checking the Confidentiality agreement box and clicking the Confirm Registration button. Pearsonvue will automatically send you an email acknowledging your registration to the email you provided at the outset. Then your ATT will follow hours or days later, depending on your Board of Nursing, because they will be the one to give the go signal to Pearsonvue that you're eligible to take the exam.
If you have other questions, feel free to drop a comment below, circle on Google+. Or you can directly contact Pearsonvue.