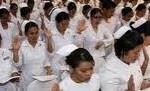 Last year, approximately 88,000 BSN graduates took the licensure exam which is the largest group ever to take the exam in the country's nursing history.  At present, many RNs are jobless due to the surplus in supply. Enrollment in nursing schools is already dropping, hospitals are full, and nurses don't know where to go.
Here are some tips for those of you looking for work:
1.     Join training programs in major hospitals.
Many hospitals are currently running training programs for nurses in a variety of specialties such as Ward Nursing, Critical Care Nursing, Emergency Nursing, Maternal & Child Nursing, Dialysis Nursing and Operating Room Nursing. These programs are designed to enhance the skills of professional nurses. They are structured according to accepted standards of nursing and are organized by seasoned and highly experienced nurses in the clinical setting. Choose only hospitals that are known for excellence and are considered training hospitals, so that you won't waste your time, effort and money.
2.     Volunteer for Medical and Surgical Missions.
International and local charitable organizations conduct medical and surgical missions in various parts of the country all year round. These missions are great venues for skill development and enhancement, since most of the missions offer technical and educational sharing to empower the local counterparts that they visit. Nurses who join missions are carefully selected and screened to assure that they are clinically competent in their field, so neophyte nurses will surely learn from them.
3.     Apply to as many hospitals as possible.
Competition in the market is tough. Submit your application letter, along with all of your credentials, to every the hospital in your area. Many applications are lined up for interviews as soon as there are vacancies. Be sure to leave a positive impression when you submit your applications to the Director of Nursing or Human Resources. Dress appropriately. Start acting like a professional as early as now.
4.     Attend continuing education courses and seminars.
Build your career and resume actively. Nursing organizations and other entities conduct training courses and seminars, and new trends and advances in technology and in science are continuously being discovered. Equip yourself with the basic skills necessary, such as IV Therapy, Basic Life Support, Advanced Cardiac Life Support and Paediatric Advanced Life Support Training. These courses are highly essential for nurses to learn so that they can respond to specific emergency situations inside or outside of the hospital. Nurses need to continue to learn – learning does not stop when you graduate from nursing school. We must update our skills with new techniques and apply evidence-based concepts in our work. Prospective employers are impressed with nursing applicants who desire continuing education. You may also want to enrol in graduate school and earn your Master's Degree in Nursing.
5.       Search for jobs abroad through the internet.
Using the internet to search for a job is becoming increasingly popular and opens up the door to many more opportunities.  Employers and hospitals abroad use the internet as an instrument to look for healthcare professionals, and some also hire nurses without any working experience. Try your luck – your employer might be just one click away!
The hunt for a good paying nursing job can be difficult, but everyone has a chance if you follow these suggestions and remain proactive in your search.  Stay positive, nurses are built to survive!
About the Author: Patrick Simon S. Soria, RN, BSN, MAN (C) is a mentor and active nurse volunteer for the organization Operation Smile International.  Patrick's background is in Medical-Surgical and Maternal-Child Nursing, and he currently resides in the Philippines where he serves as a Senior Staff Nurse at a government hospital.  Patrick has a strong passion for helping those in need, and is a great source of inspiration for his fellow Filipino nurses.