Do you want to be a skilled and trained phlebotomist in 2 days? Join Phlebotomy Training for Nurses and Health Professionals by Inetcenter in San Fernando, Pampanga.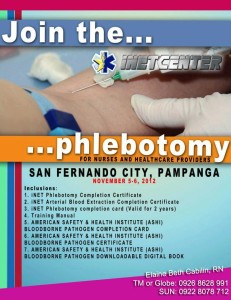 Hurry 5 SLOTS LEFT!!! Reservation fee is 500-1000php thru LBC or BDO (non-refundable).
TRAINING COURSE:
–>BASIC VENIPUNCTURE
–>BASIC ARTERIAL BLOOD EXTRACTION FOR BLOOD GAS ANALYSIS
The techniques in performing venipuncture and phlebotomy skills are made easy like ABC.
INSTRUCTOR: KLINS OLIVER, RN, CRN, American Safety and Health Institute/ECSI/AAOS APPROVED INSTRUCTOR
VENUE: CELY's, Mc Arthur Highway, San Isidro, City of San Fernando Pampanga
Lunch, morning and afternoon snacks, training manual, tokens, ID's and certificates are included.
Date: November 5-6, 2012
TIME: 8:00 to 5:00pm
PLUS! FREE HEART CHECK UP, ECG, STRESS TESTING, NONINVASIVE ANGIOGRAM and MORE FREEBIES!
For more info, please contact Elaine Beth Cabilin,RN at contact numbers 09228078712, 09268628991.