The DOH Nurse Deployment Project in Region 4a – Calabarzon has started the submission of application on November 11, 2013 with the details posted here.
Update: Exam passers were notified on November 25, and interview for passers were done on November 26.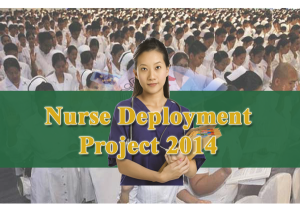 The Center for Health Development office in Calabarzon covers the provinces of Cavite, Laguna, Batangas, Rizal and Quezon. If you are in those areas and interested to apply, here are the details:
Qualifications
Registered Nurse with valid PRC license
Proficient in oral and written communication
Proficient in MS Office applications
Hardworking, efficient, patient and organized
Can work with minimum supervision
Preferably NON-smoker
Willing to travel to Region 4a and work beyond office hours
Requirements
Application Letter addressed to Director IV, Nestor F Santiago, MD, MPHC, MHSA, CESO III
Resume/Personal Data sheet with 1 picture
Photocopy of diploma/Transcript of Record
Photocopy of PRC ID/Board Rating exam result
Photocopies of Certificate of Employment or trainings attended if any
Submit it to:
CAVITE – Cavite DOH Extension Office
GEAMH Compd., TMC
– 046 4192333
LAGUNA – Laguna DOH Extension Office
Laguna Provincial Hospital Compd., Sta., Cruz, Laguna
049 8082004
BATANGAS – Batangas DOH Extension Office
Batangas Regional Hosp. Compound., Batangas City
043 7233581
QUEZON – Quezon Extension Office
Quezon Medical Center Cmpd., Lucena City
042 3731514
RIZAL – Rizal Extension Office
Pantok, Binangonan
6525609
Deadline of submission is on November 18. Qualifying Exam will be on November 21.
Qualifying Exam
WHAT:EMPLOYMENT PROGRAM for REGISTERED NURSE (EPRN) QUALIFYING EXAMINATION
WHO: To all applying RNs & RMs who have submitted their requirements in our office.
WHEN:November 21, 2013, 10AM SHARP!
WHERE:ROOM ASSIGNMENT will be posted at Quezon Provincial Department of Health Office (PDOHO) formerly CHDIV-A Extension Office at exactly 8AM!
Note:
Wear your white uniform
Bring 1 long folder
Bring PRC ID
For updates on Nurse Deployment Project in Region 4a, Like Nurse Updates in Facebook or subscribe to our email newsletter.