Department of Health Center for Health Development Region 10 (DOH-CHD 10) posted the start of accepting of RN Heals 5 2014  application and requirements. Update: It's called the Nurse Deployment Project.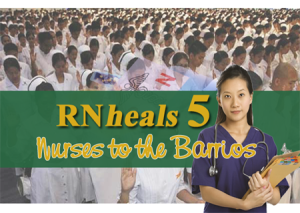 Nurse Deployment Project 2014 is an employment project of DOH that hires nurses to be deployed in communities nationwide. It replaces the RN Heals program, which has been running for 4 years.
In CHD Region 10 (Northern Mindanao, covering provinces of Camiguin, Lanao del Sur, Bukidnon, Misamis Oriental and Misamis Occidental), the submission of application starts on November 4, 2013.
Requirements
1. Application Letter and Resume
2. PRC board rating
3. PRC card ( Photocopy back to back )
4. Personal Data Sheet ( Download Here )
5. Current PNA member 2013 ( Photoopy of I.D. Back to Back )
6. Training and Work Experiences (attached certificates)
7. No plans of going abroad for 2 years
Requirements must be in long size bond paper (hard copy). Please download the PERSONAL DATA SHEET here and fill out legibly. The schedule of written examination and venue will be announced later.
Interested nurses must address application letter to:
ARISTIDES CONCEPCION TAN, MD, MPH, CESO III
Director IV
Center for Health Development – Northern Mindanao
Submit RN Heals 2014 application and requirements to the following
Camiguin – PHTL, Mambajao
Bukidnon – PHTL, Malaybalay City
Lanao del Norte – PHTL, Tubod
Misamis Occidental – PHTL, Oroquieta City
Misamis Oriental – DOH-CHD 10, Carmen,Cagayan de Oro City
Source: CHD Region 10 website. For updates on this program in other Regions, just follow this site and subscribe to our email newsletter here.