It looks like the RN Heals for 2014 will be replaced by the 'nurses to barrios' program of Department of Health (DOH). Update: It is to be called Nurse Deployment Project 2014.

Nurses who went to DOH offices to inquire about RN Heals 5 were informed that the department is upgrading the system. In initial report, the nurse deployment project will regularize the accepted nurses and their salaries will be hiked to P16,000 monthly.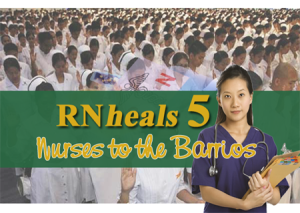 Also, they won't be deployed to DOH hospitals anymore but to the communities.
Nursegermz.com reported that the DOH Region has begun accepting applications for the program, with written exams and interview schedule this November and December.
In a Senate press release, Senator Ralph Recto said that the DOH's budget next year will be at P81.7 billion, allowing the hiring of "131 doctors to the barrios, regularize the employment of 22,500 nurses who were taken in as contractual workers, and field 3,000 midwives."
Applications per Region
We will be updating this post as we get more information and official guidelines of the project. For updates, stay on this site and follow us in Facebook here. You can also subscribe via email.