PRC has released the dates of licensure examinations next year and the nursing board exam or NLE 2014 schedule will be a little earlier than usual.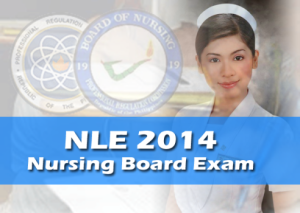 The schedule posted also includes the deadline of filing of applications for both batches, and for the first time, the target dates for the release of NLE results.
Also, the designated testing centers for BSN graduates were Manila, Bacolod, Baguio, Cagayan de Oro, Cebu, Davao, Iloilo, Legazpi, Lucena, Pagadian, Pampanga, Tacloban, Tuguegarao, Zamboanga, Angeles, Cabanatuan, Dagupan and Laoag. Yes, there will be NLE 2014 in Bacolod.
NLE 2014 schedule
1st Batch: May 2014
Application Deadline: Repeaters-March 28, 2014; First Timers-April 11, 2014
Test Date: May 25 and 26, 2014
Target Date of NLE Results: June 30, 2014
2nd Batch: November 2014
Application Deadline: Retakers-October 3, 2014; First Timers-October 17, 2014
Test Date: November 29 and 30, 2014
Target Date of NLE Results: January 31, 2015
If the deadline of filing of NLE applications fall on legal or regular holidays and non-working days, the deadline shall be extended the following working day.
You can check my other post for NLE application and requirements here. If you want to be notified of updates in the nursing board exam, subscribe to this blog via email.