The DOH – Center for Health Development Region 6 in Western Visayas will be opening the Online Application for RN Heals 4 Batch 2013 on November 7 – 13, 2012 or until slots are filled.
Based on the Official RN Heals 4 Guidelines released by DOH, Hospitals and CHDs will manage the recruitment and selection of RNHeals 4 nurses. Here are the procedures published by CHD-6 Western Visayas: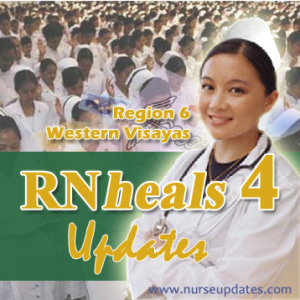 Online Application for RN Heals 4 Region 6 – Western Visayas
1. Applicants shall apply to the training program via internet www.chd6.doh.gov.ph. Click here.
2. Only nurses with VALID Professional Regulation Commission (PRC) licenses (PRC ID CARD) will be eligible to apply.
3. Dropouts and graduates of NARS Program and RNheals Batch 1, 2, and 3 are NOT ELIGIBLE to apply.
4. Criteria for selection will be as follows:
Physically and mentally fit
Not over 40 years old at the time of training/deployment
Resident/s of the identified municipality/ies (Rural Health Units)
Not able to receive any remuneration in the practice of nursing profession for the past 3 years
Should finish the training program
5. Period of Application (on-line): November 7 – 13, 2012 or until slots are filled
6. Period of Deployment: March 2013 to December 2013
Please share this post to all nurses interested in RN Heals 4 Online Application for Region 6.