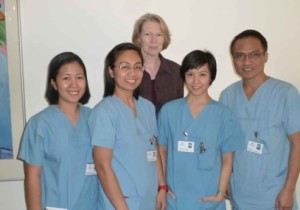 Four Filipino nurses, representing the first batch of Philippine health professionals to work in Germany under the Triple Win project, arrived in Frankfurt last month.
Nurses Vanessa S. Preclaro (25), Krystel Anne B. Sumido (28), Eowyn C. Galvez (26) and Ruel C. Galias (50), are now working at the Nordwest Krankenhaus Hospital in Frankfurt.
Preclaro works at the Cardiology Department, Sumido is assigned to the Neurology Intensive Station, while Galvez and Galias work at the Stroke Unit of the hospital.
Prior to Germany, the three female nurses were employed as intensive care and operating room nurses at the Makati Medical Center. Galias had previously been employed in Abu Dhabi where his wife also works as a nurse.
The four nurses completed German language courses at Goethe- Institute, the German Cultural Center in Manila and passed the Certificate B.1 level examinations.
Nordwest Krankenhaus functions as an academic teaching hospital of the Goethe-University Frankfurt am Main, it belongs to the Frankfurt Hospital Foundation of the Holy Spirit.
The hospital said the four Filipino professionals are presently hired as assistant nurses.
This month, they will undergo further language and nursing training to acquaint them with the technical German used in hospitals, and to equip them with the necessary communication skills for their profession.
Once they pass the language and nursing examinations in about four to five months, they will be promoted to full professional status and their salaries will likewise be adjusted accordingly.
Source: ABS-CBN