A total of 35,493 examinees from various testing centers nationwide will try to hurdle the Nursing Licensure Examination set on December 7 and 8, 2013 to be given by the Professional Regulatory Board of Nursing.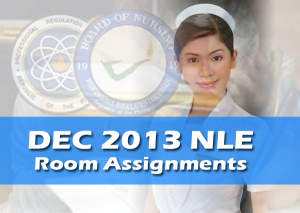 Bulk of the examinees will come from the National Capital Region with a total of 11,333 followed by Davao with 3,286 and Cebu with 3,150 examinees.
The PRC, through Board of Nursing Resolution No. 39 series of 2013, announces that examinees who have been issued the corresponding Notice of Admission (NOA) to the December 2013 Board Licensure Examination for Nurses in Tacloban City are allowed to take the exam in their preferred testing sites, provided that appropriate coordination be made with the concerned PRC Regional Office for the revalidation of their application and issuance of new NOA's not later than November 29, 2013.
Examinees enlisted in Tacloban City who will not be able to take the December 2013 Nurse licensure exam may take the same not later than the next schedule which is on May 2014 without need of paying the examination fees subject to revalidation and issuance of new NOA by the PRC Regional Office in Tacloban City.
The Professional Regulation Commission advises the examinees to bring their notice of admission, two or more pencils (No.2), ballpens with BLACK INK, one piece metered-stamp window envelope, one piece long brown envelope, and one piece long transparent (non-colored) plastic envelope on examination day.
The testing centers include Manila, Baguio, Cabanatuan, Cagayan De Oro, Cebu, Dagupan, Davao, Iloilo, Laoag, Legazpi, Lucena, Pagadian, Pampanga, Tuguegarao, and Zamboanga.
For complete list of room assignments in December 2013 NLE, check this post.