Eversley Childs Sanitarium (ECS) will hold RN Heals 4 qualifying exam for those who submitted their applications on November 13-14, 2012 to determine successful applicants.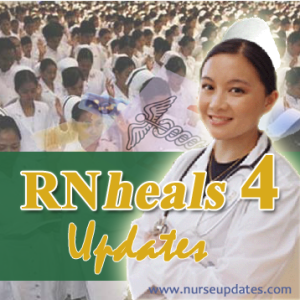 Nurse Harby Abellanosa, ECS Training Officer and RN Heals Coordinator posted the following list of examinees and their respective schedule for RN Heals 4 qualifying exam:
Date of Exam: November 13, 2012 9:00AM-12:00NN
1. Dalton Sanguenza
2. Ruschel Christine L. Labajo
3. Lorena Mae Malabon
4. Jacqueline L. Trencio
5. Charles V. Bacolod
6. Kenneth Brian Aninipok
7. David B. Roz
8. Jaide Joy Cajigas
10. Juruena B. Adjul
11. Martina C. Obiedo
12. Mark Anthony Dela Rosa
13. Kristine Mariz A. Dizon
14. Roqueza Jane Oh
15. Cliff Vincent D. Oporto
16. Jomel Perez Ariza
17. Zabulon Andales
18. Vannessa Sosmena
19. Mary Ann Sun
20. Morgan Saberon
21. Darelle John Caparoso
22. Geraldine C. Montejo
23. Chad Juntilla Pareja
24. Marife Bataluna
25. Joseph Kristian T. Marikit
26. Katrina B. Sia
27. Eduard Joseph Laranjo
28. Wilceliane J. Saceda
29. Emmanuel Gangtuangco
30. Aldrick Anthony Abelgas
November 14, 2012 9AM-12NN @ ECS Conference Room
Cherry Rose Torreta
Karen Encontro
Irene R. Hayag
Dickson Jesse P. Garciano
Jiamei Dialimas
Mae Fatima Bacalso
Allen Michael Bodo
Audrey G. Palalos
Abigail Ann Baiño
Jayvie O. Ngalot
Girlie Amaya
Janine Mae Obiso
Lory Ann Salibongcogon
Wendell Acebu
Jhoanne R. Florentino
Jason Val Tumala
Herwin Pitogo
Jon Vincent Seguerra
John Kristoffer Abesa
Ivy Licera
Mae Ann Gesalan
Noreen Corpez
Mariel C. Su
Vina Rose Taneo
Rachelle Tapales Intong
Aizelle Christeen Anero
Mary Joy Navarro
Imma Christel Peque
Sierelyn A. Dakay
Jacob Cadayona
Note:
– Please bring with you your PRC Identification Card or any government issued ID.
– 1pc 1×1 colored picture (for those who havent attached picture in the DOH-HHRDB RN-HEALS Application Form
– If your name is not on the list, you might be schedule on the next batch of exam.
Eversley Childs Sanitarium is the first regional institution established in Jagobiao, Mandaue City, Cebu purposely to make segregation and treatment of patients suffering from Hansen's disease or leprosy in Central Visayas.
According to DOH issued list, Eversley Childs Sanitarium has 20 approved slots for RN Heals 4 project.