Critical Care Nurses Association of the Philippines, Inc. (CCNAPI), a nursing organization accredited by Professional Regulation Commission, will hold a seminar this mid-October 2017 with Continuing Professional Development (CPD) units.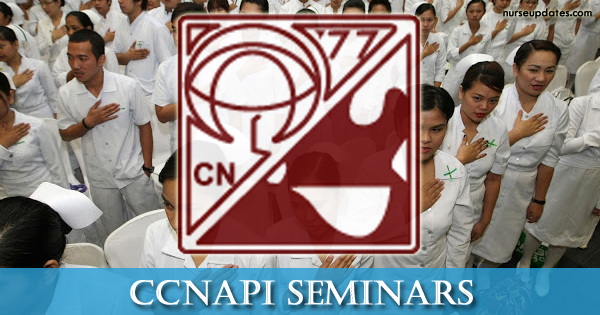 The seminar entitled "Essentials of Critical Care Nursing" will be conducted on October 16-18, 2017 with PRC-approved 24 CPD units which nurses may use in the renewal of their PRC ID cards.
The seminar will cover the following topics:
Conceptual Foundation; Common Pediatric Emergencies; Identifying ECG Rhythms; Adult and Pediatric Cardiovascular and Pulmonary Assessment; Cranial Nerves Assessment, Traumatic Brain Injury, Seizures, and Epilepsy Management; Pharmacology: High Alert Medications; Shock Syndrome and Blood Gas Interpretation; Invasive Method of Monitoring the Patient
The event will be held from 8AM-5pm at CCNAPI'S Training Rooms, 3D Edificio Enriqueta Building, 422 N.S. Amoranto St. (former Retiro St.) Corner D. Tuazon Quezon City.
Registration Fee
Member – P3,000
Non-Member – P3,500
Inclusive of handouts, certificate and snacks. It will be accredited with 24 PRC CPD units.
For more inquiries, kindly contact CCNAPI at 516-38-91 | 0922-817-3210 | 0918-944-6897. Email: ccnapi_nurses@yahoo.com. CCNAPI'S Main Office is located at: 17th floor , Medical Arts Tower, Inc. (MATI) Building, THE MEDICAL CITY, Ortigas Avenue, Pasig City, 1600
CCNAPI is the national organization of nurses interested in the field of critical care nursing. Founded in February 1977 with approved SEC registration (CN 200813601), it is a founding member of the World Federation of Critical Care Nurses (2001) and accredited as a Provider of Continuing Professional Education by the Professional Regulation Commission (Provider Number 2009-019).