Professional Regulation Commission through Board of Nursing announces that nurses will be tasked to meet the Continuing Professional Development (CPD) units as a requirement for renewal starting January 2018.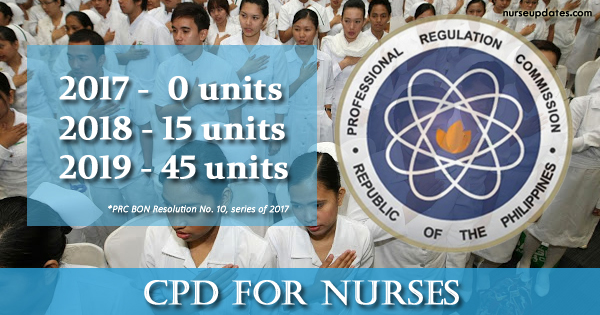 In a Board Resolution No. 10 series of 2017 issued recently, the BON stated that those who will renew their Professional Identification Cards (PICs) which bear their licenses are mandated to comply with the new law, Continuing Professional Development Act of 2016.
The CPD law, sponsored by Senator Antonio Trillanes III and passed in July 2016, provides that all registered and licensed professionals shall complete the required credit units (CUs) every three years of compliance period.
For nurses, the required CUs is 45 units every three years. The BON did not push through with the previous announcement that they will raise it to 60 units.

Only 15 units will be required for the year 2018, and full compliance will start at 2019 onwards. Here's the table of compliance as issued by PRC-BON.
January to December 2017 – 0 units
January to December 2017 – 15 units
January 2019 onwards – 45 units
Here's the full resolution: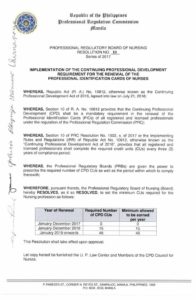 Nurses may meet this requirement through CPD Programs such as Professional Track (seminars, training), Academic Track (Masters and Doctorate degrees) or Self-Directed/Lifelong training.




Is there any exemption? The law does not provide any exemption from CPD compliance for the renewal of Professional Identification Card.
How about the nurses who are working overseas? Nurses abroad may attend trainings/seminars conducted by the foreign chapters or affiliates of accredited CPD Providers.
They may also attend trainings/seminars conducted by non-accredited CPD Providers and apply for credit units under Self-Directed Learning and/or Lifelong Learning.