Those who are in charge of RN Heals 4 in Calabarzon has posted an update in Facebook page to clear things up on recruitment and selection of nurses for the training program of DOH.
DOH announced through it website that recruitment and selection of nurses for RN Heals 4 started only in October 29, but some nurses all over the country had already submitted application and requirements to DOH hospitals and CHDs way ahead of the date. So those who did were at a quandary whether to resubmit application using DOH forms or stay put and wait for further instructions.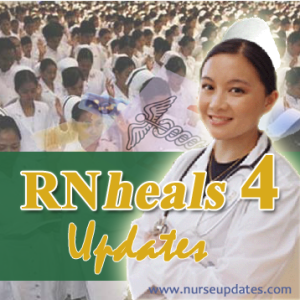 Good thing for Calabarzon nurses, here's the clarification issued by CHD-4A for RNHeals 4:
ATTENTION : APPLICANTS FOR BATCH 4 : THOSE WHO HAVE SUBMITTED THEIR APPLICATION PRIOR TO APPROVAL OF THE GUIDELINES – PLEASE DOWNLOAD APPLICATION FORM AT DOH WEB (WWW.DOH.GOV.PH), FILL UP APPLICATION FORM THEN SCAN AND SEND AT chd4a_hrdu@yahoo.com the accomplished form…. thanks
REMEMBER : THIS IS ONLY FOR THOSE WHO HAVE SUBMITTED ALREADY THEIR REQUIREMENTS . FOR THOSE WHO HASNT … PLEASE PRINT THE FORM, ACCOMPLISH THE REQUIREMENT SUBMIT TO RESPECTIVE OFFICES…
I hope that advisory helps. For other regions, it is best that their respective DOH regional offices and CHDs would also offer the same clarification.
Download RN Heals 4 Application forms here.